Manufacturing business intelligence or BI is the process of collecting, reporting, and interpreting data to inform strategic decisions that can be used to drive continuous improvements.
The Importance of Business Intelligence for Manufacturing Organizations
Business Intelligence provides organizations with actionable insights required to improve the efficiency of their operations and future proof their manufacturing business. Through collecting and assembling the company's business data on one cohesive platform, company executives can more easily leverage their data to make informed decisions in time to improve operational efficiency and as a result, profitability.
Understanding How ERP and BI Work Together
ERP systems allow companies to capture the vast amount of business information passing between their customers and suppliers and everyone in between. Understanding this data is critical for making data-driven decisions that result from this "business intelligence".
Most manufacturing organizations already utilize an ERP system that aggregates their operational data, but few take advantage of this trove of information to inform their business strategy. Without a BI system, many manufacturing executives are unaware of the visibility they could have looking under the covers on how their business operates.
To remain competitive, it has become increasingly necessary for manufacturing organizations to assess and improve their operations through business intelligence. Without it, they are operating blind—risking making bad and ultimately costly business decisions due to a lack of visibility to the information they actually already have.
Common KPIs for Manufacturing Organizations
Through BI, manufacturers can monitor, track, and assess all of their most important key performance indicators (KPIs). Having comprehensive visibility on production rates, inventory levels, financial metrics, and forecasts on customer demand allows manufacturing organizations to make more informed, data-driven decisions instead of just guessing. Manufacturing organizations frequently keep track of the following KPIs to help evaluate the current state of their business:
Revenue
Profitability, Margins, or Earnings before Interest, Taxes, and Amortization (EBITA)
Cost of Goods Sold (COGS)
Inventory Turns
Return on Assets
Overall Equipment Effectiveness (OEE)
On-time Performance
Lead Times
Supplier Lead Times
Supplier Defect Rate
Challenges with Tracking KPIs
As organizations grow, it becomes difficult to keep track of everything. Manually recording data on isolated spreadsheets wastes valuable time and organizational resources on collecting, assembling, and interpreting data. It is also very difficult to keep these spreadsheets updated based on business changes while ensuring their consistency and available access across business departments or across multiple divisions. Without an integrated ERP and BI system, it is extremely difficult and costly to manually record and monitor the KPIs of an entire manufacturing organization.
Leveraging the Salesforce Platform for Improved Manufacturing Business Intelligence
Salesforce collects your organization's business data in a single data platform that can be reported on for customizable dashboards, analytics, and artificial intelligence (AI) models that can be tailored specifically to your business. Through machine learning, Salesforce can generate custom reports, visualizations of business data, and forecasts or predictions based on past data trends. The platform allows you to store all of your business data onto one consolidated database that can be reported against for customized dashboards for virtually any business need. You can program in notifications that alert you to potential insights, trending opportunities, and potential improvements.
Is Salesforce a BI Tool?
Salesforce is technically not a BI tool, but rather a customer relationship management (CRM) platform. It has BI tools native to the Platform which can be implemented as a data-first solution that digitizes all activities and can, in combination with Rootstock Cloud ERP, provide actionable business insights appropriate to any user's needs. Salesforce CRM provides a series of critical functions in sales and service, while Rootstock adds operational data that traditionally would have been collected on paper. With Cloud ERP on a next generation cloud platform, you can digitally transform to prepare for the next generation of your business.
How can Manufacturing BI Software Help Organizations?
Gartner research notes that 36% of manufacturing enterprises realize above-average value from IT spending in digitalization compared to peers. A comprehensive business intelligence solution benefits the efficiency of your manufacturing organization from order to invoice. Data collected on the shop floor enables manufacturers to monitor and manage their productivity against demand goals. Inventory, production, and finance can be managed by front-line managers to keep all of the available information synchronized with production; and finally, this data can be bubbled up into visual dashboards for executives who need accurate, real-time information in order to make decisions in time to make a difference.
Supply Chain Management
The visibility into supply chain management provided by business intelligence can benefit an organization in many ways. End-to-end supply chain visibility allows manufacturers to properly prioritize customers and suppliers, negotiate better prices on contracts, ensure the timely delivery of their shipments, prevent stockouts, eliminate short shipments, as well as manage their inventory and purchases.
Production Management
Business intelligence enables organizations to improve production management with specific reports detailing employee, machine, workstation, and department capacity in order to allocate resources more efficiently. BI provides visibility for proactively addressing problems—such as uncovering potential production bottlenecks in inventory that can be foreseen through up-to-the-minute dashboards.
Through its integrated data platform connecting all customers and suppliers across all systems, Salesforce allows organizations to react with agility to opportunities and obstructions with seamless cooperation across departments.
Accounting and Financial Management
Business intelligence can also be used to improve financial management by providing real-time insights with reports on revenue, payables, and receivables. With real time updates on a single cloud platform instead of disconnected, outdated, or out-of-sync spreadsheets—companies can communicate efficiently and locate opportunities to boost efficiency, cut costs, and keep customers happy.
Inventory Management and Control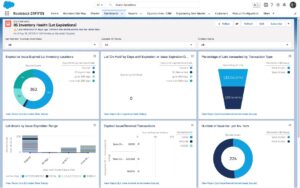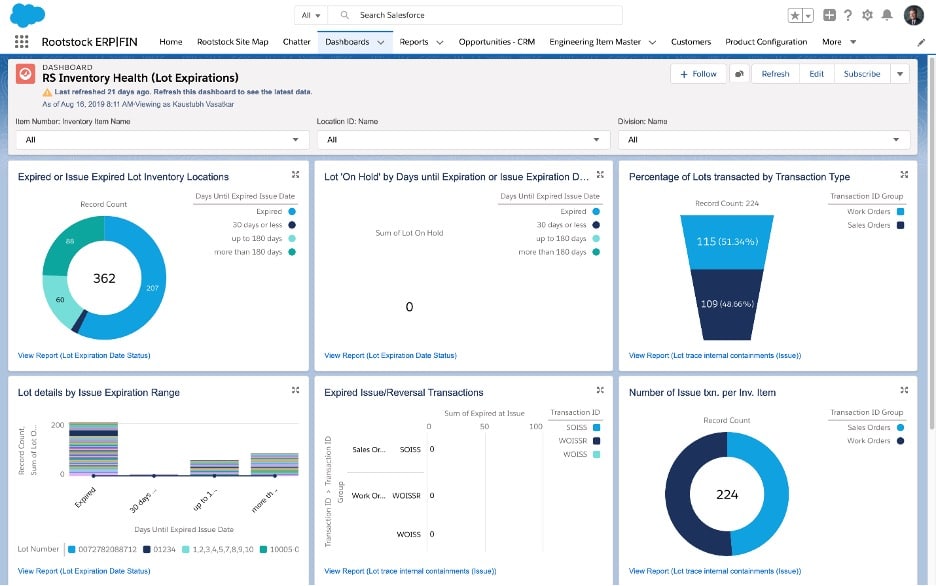 Business intelligence can also be used for inventory management—ensuring that adequate raw materials are available to meet production and profitability needs. Executives can generate custom inventory reports identifying the cost-of-goods-sold by project line and data-driven inventory management can free up budget space by limiting excess stock. BI can help organizations navigate between the excess carrying costs resulting from high inventory and the risk of missing customer commitments resulting from low inventory.
Sales and Sales Order Processing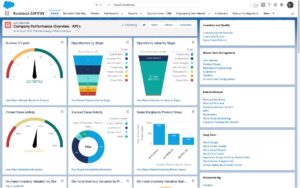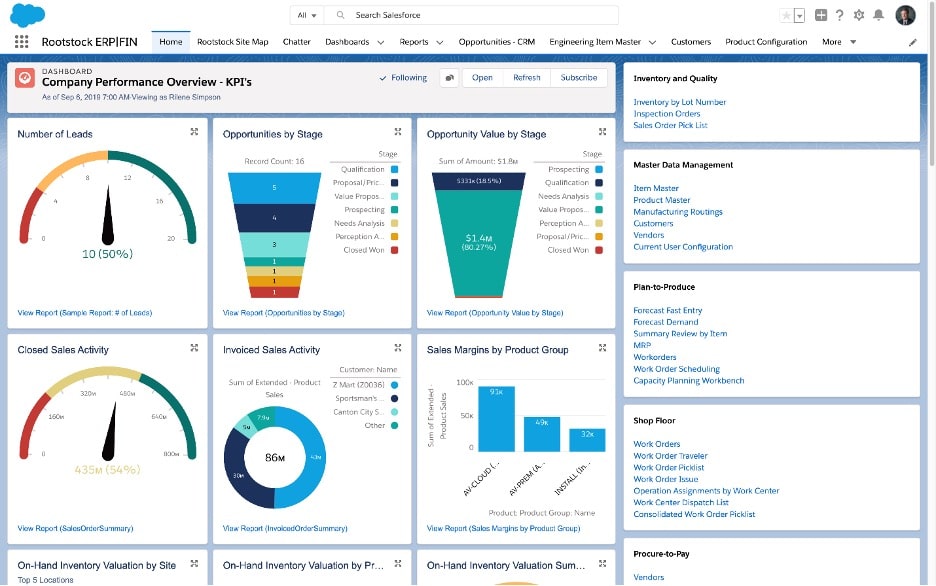 When applied to sales, business intelligence can facilitate closing leads through reporting process metrics such as quantities, days in stages, and attainment to goals. Sales forecasts can improve order fulfillment rates, lower inventory costs, and telegraph increases in revenue. Business intelligence also provides organizations a more complete picture of which products or services are increasing their sales, allowing them to allocate their resources accordingly to set informed, achievable sales goals. BI also streamlines the process of order processing and fulfillment—providing accurate and punctual invoices, easily accessible to all personnel as soon as the job is completed.
Customer and Field Service
Business intelligence can help organizations improve after sales field service by providing them with the actionable data they need to make informed strategic decisions. BI allows manufacturers to efficiently manage their scheduled maintenance, warranty services, customer complaints, and scheduling of technicians. Through service reports detailing the average timeframe to resolve a customer complaint, service managers have visibility to address longer than expected or multiple service calls. It is difficult for an organization to improve on the quality of its customer and field service without precise metrics and analytics alerting it to the opportunities for improvement.
Engineer to Order Environments
Engineer to order (ETO) manufacturing significantly increases the complexity of a project and ETO manufacturing organizations utilize business intelligence to make accurate estimates of cost and project completion time, to ensure project profitability. Business Intelligence can be used for scheduling and tracking service contracts with customizable billing based on project milestones, materials, and time.
Improve Manufacturing BI with Rootstock Business Intelligence ERP on Salesforce
Through business intelligence, organizations can utilize their own data to make profitable decisions. Built for the Salesforce Platform, Rootstock's next-generation cloud ERP solution provides manufacturers with the comprehensive, end-to-end visibility and actionable insights they need to inform their business decisions and improve their operational efficiency.
Check out the 360° visibility Rootstock can provide your business here.
Learn more about Rootstock's analytical capabilities here.