It's an old adage that you "can't save your way to prosperity" or "cut your way to growth." But in today's uncertain and volatile world, there seems to be plenty of watercooler talk in manufacturing about reducing investments and taking a wait-and-see approach to success.
Sure, manufacturing has always been a conservative industry. So, does this talk reflect what's happening in the industry? Or is a vocal minority skewing our collective perception of the industry? Let's explore what manufacturers had to say in a recent survey.
Manufacturing Investments Don't Line Up with Expected Impacts
Rootstock's new sponsored IDC study, '2023 State of Manufacturing Technology Survey' aims to uncover how manufacturers are building the foundation for digital transformation (DX). It opens with questions about what matters to manufacturers and where they're investing in IT. And here is where our confusion begins.
When asked how they expect inflation, interest rates, and economic conditions to impact their organization over the next 12 months, most respondents pointed toward unpredictable suppliers and transportation as their top two concerns, respectively.
When asked where they're making IT investments over the next 12 months, respondents chose cybersecurity as their top investment area. Supply chain was last on the list, after operational performance, sustainability, growth, and resiliency.
Wouldn't it be more reasonable for the top expected impact to also be a top area of investment ?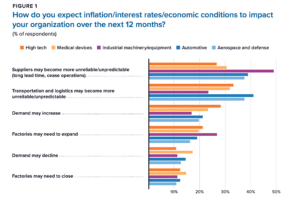 Even more perplexing is that four of the top five investment categories—cybersecurity, operational performance, sustainability, and resiliency—are unrelated to current economic conditions and uncertainty. Furthermore, the non-growth areas of cybersecurity and sustainability took precedence over investments in growth and supply chain.
But why?
Positive Expectations, Not Dire Warnings, Drive IT Investments
The 500-plus respondents to this survey represent a cross-section of multiple discrete manufacturing industries and have $50 million to $2.5 billion in annual revenue. These are small and midsized manufacturers—the heart of our manufacturing industry—clearly in tune with the market today.
Back to the question of how they expect inflation, interest rates, and economic conditions to impact their organization over the next 12 months. More respondents forecast demand to increase versus decrease and more expect that they'll see factories expand versus close.
For an otherwise conservative and pragmatic audience, the positivity is striking. In such a year of uncertainty and economic volatility, more manufacturers still see an opportunity for growth. The assumption here is that manufacturers are investing based on this positive outlook: they expect growth, so there's no need to invest money to generate growth.
Modernizing for Better Insights
Perhaps this contradiction in positivity is because the appetite for applying technology to manufacturing challenges has never been higher. As evidenced by virtually all the questions in IDC's survey, cybersecurity is the top concern from an IT perspective. Operational performance, sustainability, growth, and resiliency fall into a virtual tie for second vying for IT investment.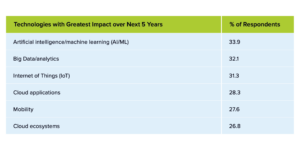 Interestingly, when splitting IT investment prioritization answers by IT respondents versus line-of-business (LOB) respondents, more LOB respondents rank cybersecurity as a top priority over the next 12 months. Let that sink in: the business thinks IT should spend more on cybersecurity than supply chain and other issues.
Looking further into the future, IDC asked which technologies would have the greatest impact over the next five years. Artificial Intelligence (AI)/Machine Learning (ML) tops the list—likely due to the explosion of recent news touting AI chatbots like ChatGPT. Internet of Things (IoT) ranked third as an enduring favorite among manufacturers.
What's interesting—and unsurprising post-pandemic—is that cloud and mobility technologies rank fourth through sixth as technologies expected to have the greatest impact over the next five years. What was second, you ask? Big Data/analytics.
Overlooking the trendy responses, the presumption here is that manufacturers' DX aspirations are focusing on moving to the cloud and leveraging cloud-based data across the entire business.
"Data is the New Oil"?
When British mathematician Clive Humby coined the expression "data is the new oil" in 2006, he posited that data, like oil, isn't useful in its raw state. "It needs to be refined, processed and turned into something useful; its value lies in its potential." Forbes even goes farther saying that "Data as the New Oil is Not Enough". Without the ability to deliver data, in the appropriate context, it is just data and manufacturers have traditionally had more data than they know what to do with.
This explains why the cloud is such a priority for manufacturers. In fact, when asked about barriers to DX initiatives, IDC survey respondents point to the lack of collaboration, limited data access, and limited visibility as three of the top five. Without DX action, respondents say the inability to use growing volumes of disconnected data as the number one consequence.
Invest in Digital Transformation, Starting with Cloud-based ERP
For those manufacturers still waffling on whether to invest in DX technologies, respondents expect to increase their investments by an average of nearly 11%. Those who consider themselves "ahead of their peers" expect the increase to exceed 12%.
If you're increasing your technology investment by 10% or less, you're falling behind your "average" competitor.
But, where should that investment go?
Almost two-thirds of respondents plan to replace their primary or secondary ERP—presumably with a cloud-based system—to better harvest and leverage manufacturing data. Those who consider themselves ahead of their peers also lean heavily towards strongly considering Salesforce as the single platform to standardize their IT systems.
So perhaps the perception that most of us have—that manufacturers are waiting out the storm and not investing in growth—is just the vocal minority outweighing the silent majority.
Most forward-looking manufacturers have probably already woven economic uncertainty into their plan—because we all know there will be more disruptions. In an economy where you can't find enough people to stand up your daily workforce—let alone grow—wise manufacturers see the forest for the trees and are investing in success and growth. Perhaps like no other time in history, the pendulum is swinging toward technology as the harbinger of manufacturing success.
For more insights and the complete survey results, read the IDC InfoBrief, '2023 State of Manufacturing Technology Survey,' to see if your answers leap ahead of or fall behind your peers.
Are you a leader or a laggard? The choice is yours.