Osoth Inter Laboratories Co. Ltd (OSI), headquartered in Thailand, produces OEM and branded pharmaceutical products and dietary supplements. The company, one of 200 within the SAHA Group, places a premium on regulatory compliance, continuous improvement, and customer satisfaction. But, the burden of legacy ERP, a complex operation, and highly manual production, quality, and compliance processes started weighing on company growth. Then, they found Rootstock and ComplianceQuest.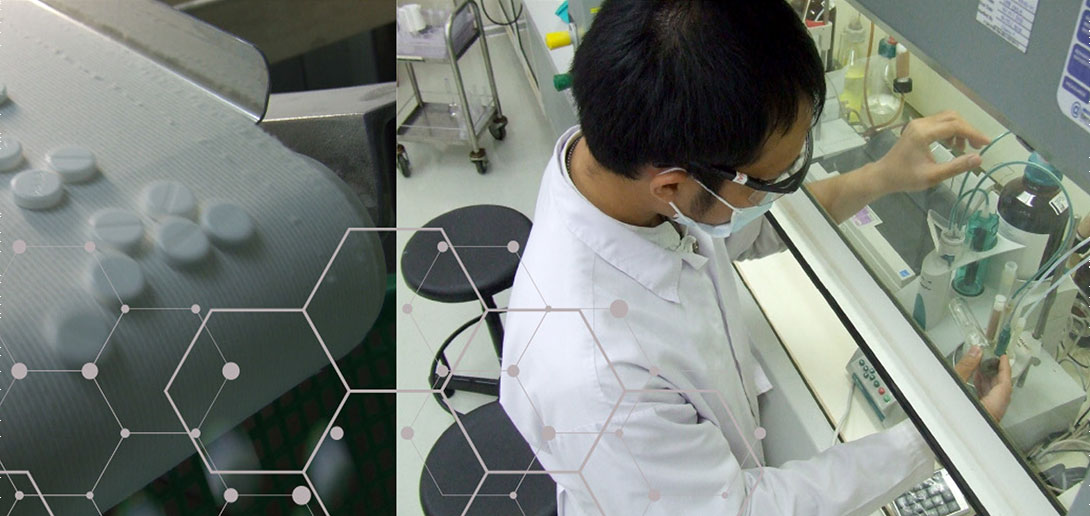 Modernizing a Legacy Foundation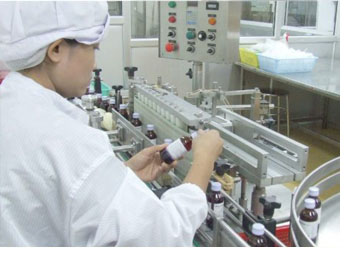 OSI is dedicated to manufacturing quality products that satisfy both the customers' needs and regulatory requirements. A key driver in reaching that goal is a focus on quality management through employee competency and training. It's worked well enough to achieve minimal (< 1.8%) total production waste, over 85% customer satisfaction, and nearly 100% on-time deliveries.
As the company grew, however, improving on, and even maintaining, those stellar metrics was becoming difficult. OSI had been using an older, locally developed ERP system with limited capabilities. Furthermore, many of their production, operations, and quality processes were managed manually, relying on spreadsheets and even pen and paper to record and track data. This resulted in errors, slow processes, and a lack of visibility into costs, inventory, time, compliance, and more.
OSI then assembled a team to eliminate these barriers to growth. Pattara Vikitset, member of the board of directors and special projects lead at OSI, joined with Khun Marote, managing director, Khun Waraporn, head of finance, and others to search for a solution, all in support of the overall vision set by Khun Thirasak Vikitset, OSI chairman of the board. The goal would be to transform how the company worked far beyond just production, eventually connecting everything from sales and finance to quality and scheduling.
Another SAHA Group entity, S&J International, relied on a combination of SAP ERP and Force.com, and pulled OSI onto this platform for collaboration. OSI considered deploying a similar legacy ERP solution, but quickly discounted it due to the complexity and poor fit with their ultimate modernization goals.
"A legacy ERP system just wasn't something we wanted," said Pattara. "It wouldn't help us achieve our cloud-based goals."
We had an older ERP system and were searching for something much more modern, cloud-based, and with more capabilities to help us run a business of our complexity.
– PATTARA VIKITSET, BOARD OF DIRECTORS AND SPECIAL PROJECTS LEAD AT OSI
Reimagining ERP with Rootstock and the Cloud
The OSI board, top management, and the broader operations team had a vision for modernization which was catalyzed when the team met Rootstock at Dreamforce. Rootstock is built on a cloud-based platform, could leverage OSI's prior Salesforce experience, and could easily expand beyond just operations.
"We had an older ERP system and were searching for something much more modern, cloud-based, and with more capabilities to help us run a business of our complexity," Pattara recalled. "With Rootstock being a full ERP solution, it gave us the potential to support operations, customer service, sales, and finance all on the same platform."
To help with deployment, OSI engaged coServe, a global technology solutions provider with cloud migration expertise and a strong presence in Southeast Asia. The only missing component to the solution was support for quality efforts, but with Rootstock and coServe, the company's complete, cloud-based solution was coming together.
"OSI had an ambitious vision of modernization to eliminate manual processes and the accompanying errors and lack of speed," said Rajendra Tunuguntla, managing director at coServe in Hyderabad, India. "But, having worked with Rootstock in the past, and following the guidance of their international vice president of partners, Kees Westerhuis, we knew the solution would do much more than just modernize operations. This solution would improve all aspects of OSI, from compliance and quality through to costing, inventory, finance, sales, and more."
The challenges of digitally transforming existing processes at OSI were accelerated by the knowledge and experience coServe brought to the project. Their ability to help OSI fit a new solution into their existing processes was instrumental to the project's success. The expertise of coServe also ensured the solution was able to meet local and regulatory requirements.
Rootstock lets us become better at being an OEM because we can really understand our costing, uptime and downtime, and production times.
– PATTARA VIKITSET, BOARD OF DIRECTORS AND SPECIAL PROJECTS LEAD AT OSI
A Complete Solution to Cover Compliance
Many manufacturing operations, regardless of their location, are limping by on old, incompatible, and highly manual methods to run their business. OSI was no different, but their leadership was determined to bring them into the modern, cloud-based era. Of course, they couldn't modernize one area only to have another remain manual and create unnecessary bottlenecks.
Since OSI manufactures pharmaceuticals and dietary supplements, regulatory compliance was a top concern—and a significant manual effort. But, adding ComplianceQuest to Rootstock would provide a complete solution. Data from inspections, activity logging, inventory, traceability, and more could be easily reported for regulatory compliance, but also used to improve logistics, sales, costing, and production.
"Our compliance and quality efforts were quite manual, which led to frequent errors and mistakes," said Pattara. "But this new solution lets us ensure higher quality with more accuracy in less time while improving compliance across the operations because the data is instantly visible across Rootstock."
We have a grand technology vision at OSI, and Rootstock is helping get us there.
– PATTARA VIKITSET, BOARD OF DIRECTORS AND SPECIAL PROJECTS LEAD AT OSI
Using ERP Data to Inform the Business from Anywhere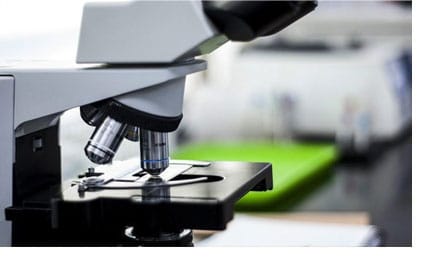 As OSI continues their rollout of Rootstock, they are already seeing company-wide benefits from the data visibility. Specifically, unused capacity was an area of great opportunity for OSI. Rootstock now empowers them to track and analyze the capacity data to understand their true production costs.
"Downtime is very important to us, but we could only track it manually," explained Pattara. "Now we can see that data in Rootstock, analyze it, and start finding ways to utilize our unused capacity. Rootstock lets us become better at being an OEM because we can really understand our costing, uptime and downtime, and production times."
The flexibility, power, and low-code nature of Rootstock is also opening new avenues for OSI to expand these insights to even more areas of their business. The company plans to add self-service capabilities to give customers direct access to order, production, and inventory data. OSI is also exploring mobile options throughout their facilities so warehousing and production can record data and scan barcodes from the production floor, making that data then instantly available across the business. Sales is also on tap to use the mobile capabilities of Rootstock to be more responsive to customers, anytime and from anywhere.
"Rootstock mobile capabilities are really promising for OSI," added Pattara. "It will let us both capture and use a lot more data much faster than we ever imagined. We're recording that data manually now, and that's just not sustainable."
Supporting More Growth
Moving from a paper-based, manual operations to a cloud-based, enterprise-wide solution can seem daunting. But for OSI, the potential for business improvement was too big to ignore. Once they discovered the seamless, comprehensive solution available from Rootstock and ComplianceQuest, they knew it was the right combination to achieve their vision of modernization.
Today, OSI is gathering more data, finding more operational efficiencies, and improving quality and compliance in their highly regulated pharmaceutical manufacturing operations. And, what began as a desire to modernize their legacy ERP system swiftly transitioned into an end-to-end solution OSI can use to better run everything from inventory to quality to profitability.
"The nature of ERP links everything, which gave us the opportunity to change how our company works," concluded Pattara. "Before Rootstock, we didn't have many of the production and quality insights we needed to continue growing. But now we can see that data, our workers know what they need to know, and we're better able to manage production costs accordingly. We have a grand technology vision at OSI, and Rootstock is helping get us there."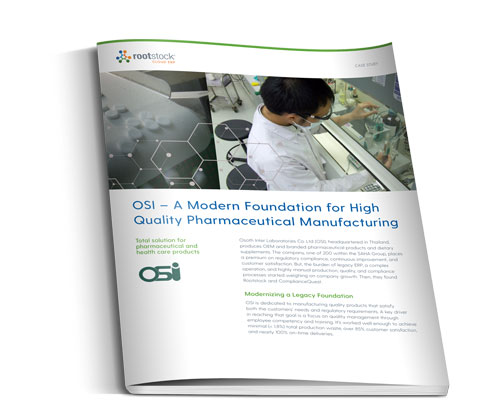 More Customer Success Stories