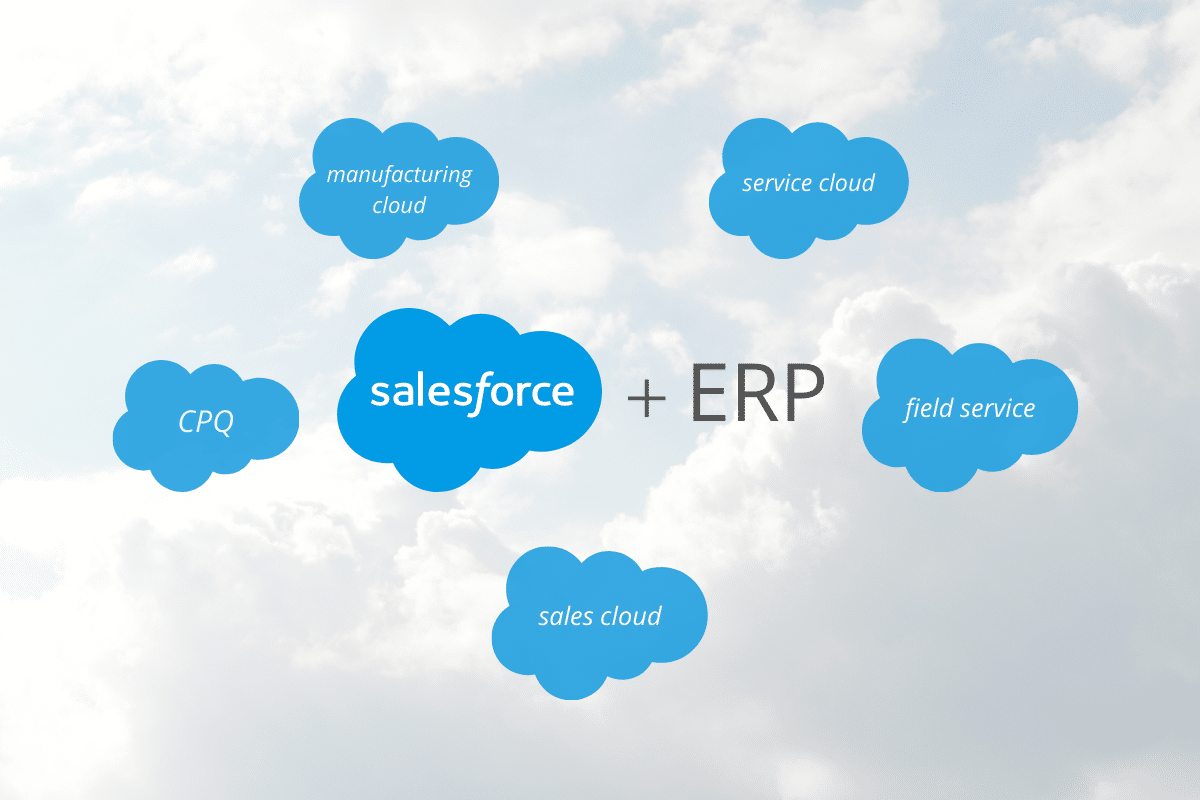 Most people in business know Salesforce as a hugely successful company that dominates the Customer Relationship Management (CRM) market. If you use Salesforce CRM, you already know how it helps your sales and services teams. What you may not know is what the Salesforce Cloud Platform can do for the rest of your company, particularly for your manufacturing operations.
We get plenty of questions about Salesforce and manufacturing and ERP. Is Salesforce an ERP system? How does Salesforce integrate with ERP? How do products like Salesforce CPQ, the Manufacturing Cloud and the Service Cloud work with ERP? How can Salesforce help manufacturing operations be more efficient and help us do a better job of Sales and Operations planning?
To provide answers to these questions, we've put together a collection of resources designed to introduce you to everything that Salesforce, along with Rootstock Cloud ERP, has to offer manufacturers. If you've never experienced Salesforce before, or if you already use Salesforce CRM but need to know more about how Salesforce and ERP fit together, then the following educational resources are for you:
Read this first. This page provides an overview of all our Salesforce-related resources and links to the pertinent content.
We hear this question a lot. This page gives a clear answer to the question and introduces you to the benefits of running ERP on Salesforce.
Why the Salesforce Platform is Great for ERP
This page describes why running ERP for Salesforce can be the foundation of your digital business strategy, from reducing costs to gaining a 360° view of your customers and your business.
Salesforce Manufacturing ERP Features
You're a manufacturing company, so naturally, you want to know what Salesforce can do for you. This page introduces you to all of the manufacturing benefits of Salesforce combined with ERP on a single platform.
Salesforce Manufacturing Cloud
On this page, we introduce you to Salesforce Manufacturing Cloud and describe how combining it with Rootstock Cloud ERP helps you improve your sales and operations planning.
Configure-Price-Quote is a critical process for many manufacturers. This page shows you how Salesforce CPQ combined with Rootstock Cloud ERP bridges the gap between quoting and downstream manufacturing processes.
Salesforce Inventory Management
As a manufacturer, you want to increase your inventory precision, accuracy, efficiency and flexibility. Here we describe how ERP works with Salesforce to improve your inventory management processes and inventory visibility for the rest of your team.
Supply chain planners must remain in sync with production, suppliers and customer demand. This page describes how Salesforce and Rootstock Cloud ERP helps you achieve that goal.
Today, many companies look to their customer service operations as a critical source of revenue and recurring business. On this page, learn how Salesforce Service Cloud, along with Rootstock Cloud ERP, gives your support reps everything they need to satisfy your customers and be more productive.
Salesforce is not just for your support reps answering phones. Salesforce Field Service works with Rootstock Cloud ERP to elevate your field service operations, from scheduling to invoicing to inventory.
Is your legacy ERP system is holding you back from moving to the cloud? This page introduces you to the three migration paths from legacy to cloud that Rootstock offers.
Salesforce Experience Cloud gives you the capabilities to build secure websites, portals, and apps, all with the goal of strengthening these oh-so-important relationships.
Salesforce is more than just CRM software. It's really a forward-looking cloud platform that integrates seamlessly with Rootstock Cloud ERP to provide manufacturers everything they need to grow and compete in the world today.