Rootstock ERP Accounting System Features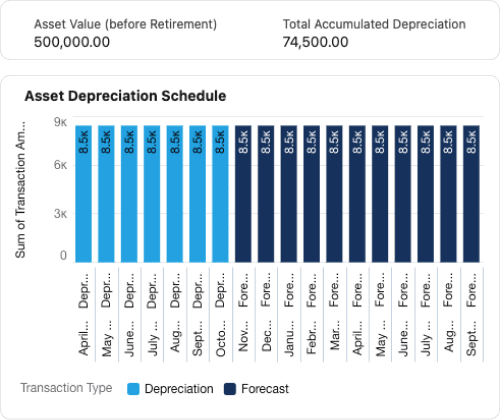 All-In-One ERP Accounting, Fixed Asset & General Ledger System
Rootstock ERP accounting offers a completely integrated accounting, fixed asset, and general ledger solution to help manufacturers and distributors stay on top of financials. It's flexible, highly automated, and provides real-time financial dashboards and reports to monitor profitability, cash, and overall business health from anywhere at any time.
Fixed assets flexibility to purchase, build, or pull from inventory, and then upgrade, refurbish, adjust values, or transfer ownership.
Choose from straight-line, declining balance, and sum-of-the-years-digits depreciation methods or define your own.
Use a flexible, easy-to-maintain chart of accounts, set multiple reporting dimensions, and budget against accounts, projects, divisions, and dimensions.
Accommodate multi-company, multi-division, and multi-currency financials, and generate reports based on nearly any dimension.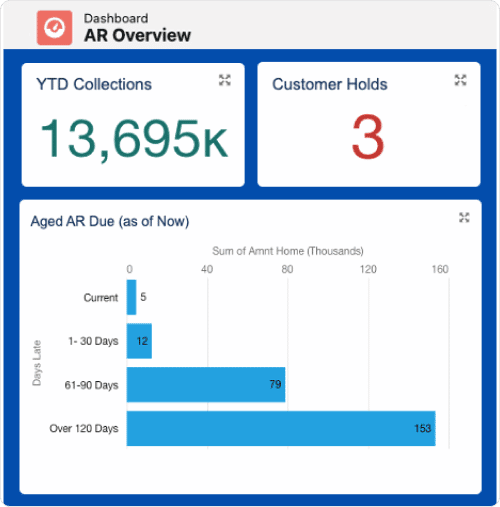 Complete Accounts Receivable
Rootstock accounts receivable enables efficient management of payments. When combined with Salesforce CRM, it further provides 360° visibility into all customer interactions across CRM, operations, and finance from a single ERP financial system.
Accept checks, cash, credit cards, and automated bank payments.
Automate cash-matching.
Gain real-time visibility into cash flow and customer aging.
Automate multi-currency gains and losses.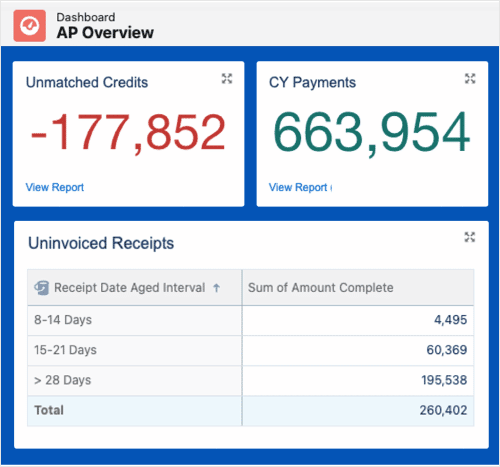 Full-Featured Accounts Payable
Maintain complete control of cash flow and efficiently manage supplier relationships with accounts payable capabilities. Native connections to operations and production provide links back to originating transactions for complete visibility and audit trails.
Drill down to see requisitions, purchase orders, inventory, receipts, and credit/debit memos from operational systems.
Automate scheduled, one-off, electronic payments, and bank reconciliation.
Use multi-currency capabilities including automated gains and losses.
Look ahead or behind with flexible aging reporting, user-defined aging buckets, and as-of reporting.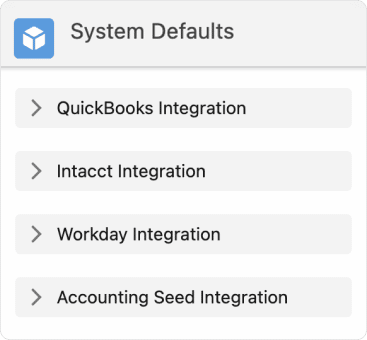 Seamless Integration with Other ERP Accounting Systems
Not ready to transform your accounting system? No problem. Rootstock Cloud ERP software is designed to work with existing accounting solutions. Here are a few of the accounting software integrations offered with Rootstock:
Workday
QuickBooks
Financial Force
Sage Intacct
Salesforce
"Rootstock's ERP Technologies have become a one-stop-shop for its customers, especially with the addition of the Financials module. Rootstock's native Salesforce integration is a significant differentiator."
Gain Full Visibility Into Finances with Rootstock ERP Accounting System
Accounting and Finance are central to the oversight, guidance, and control for manufacturing operations, but these teams can't be effective or efficient when relying on manual spreadsheets and disconnected systems. Rootstock ERP accounting system brings accounts receivable, accounts payable, and general ledger together in one system to provide the critical, real-time financial information needed to manage rapidly changing businesses.
Seamlessly Integrate with Operations: Rootstock ERP accounting software connects with operations data for full visibility of sales orders, shipments, invoices, service calls, and subscription billing.
Powerful, Intuitive Financial Reporting: Customizable dashboards to monitor profitability, cash, and overall financial health in real-time.
End-to-End Accounting Management: Easily manage payments, supplier relationships, cash flow, and purchase orders all on one platform.
Integrates With Existing Accounting Systems: Rootstock Financials connects to popular accounting systems such as Workday and QuickBooks, making it easy to get started.
Watch a Demo
See how Rootstock's ERP accounting software gives your company end-to-end visibility into financials.