Rootstock Learning Center
We partner with you to help you accelerate your ROI and time to value.
CUSTOMER LOGIN
Accelerate Your ROI By Getting Your Teams Productive Faster
Our integrated learning approach for new customers includes bootcamps delivered by Rootstock experts to help your team hit the ground quickly and efficiently.
We also provide eLearning options with role-based exercises to get your teams productive on day one.
Always on, always available, the Rootstock Community puts all product documentations at your fingertips.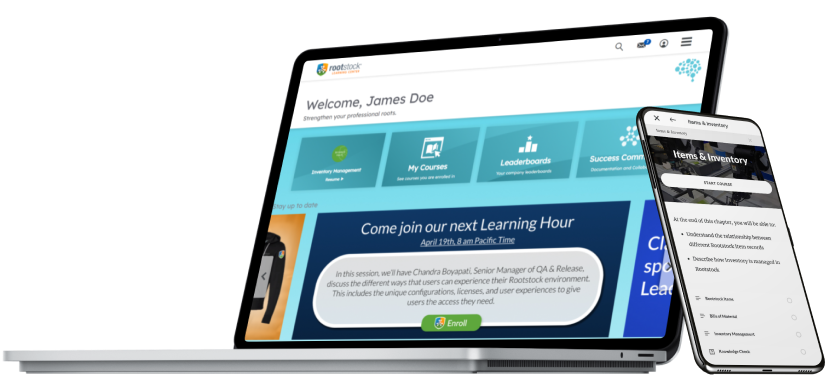 Achieve Faster Time to Value
Begin your digital transformation with immediate business value:
Take advantage of our role-based curricula as a learning approach focused on what you need to be successful now.
Maximize your investment in the platform with custom Salesforce Trailhead learning paths.
Count on Rootstock as your partner for solutions customized to your change management needs.
"The Learning Center courses have been extremely helpful at getting our team up to speed on Rootstock, especially with the hands-on experience with the exercises."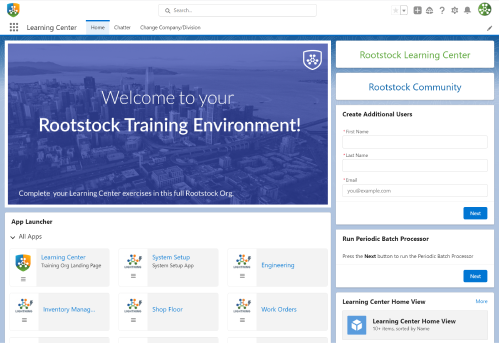 Keep Productivity High with Continuous Learning
Everyone can learn in their preferred way with learning modes to fit individual learning styles.
Educate your teams from wherever they are, whenever they can log on with on-line, eLearning courses.
Stay current with bi-weekly Learning Hours from Rootstock product experts to keep you up-to-date with select product capabilities and the latest product releases.
Share knowledge and get answers to your questions in the lively Rootstock Community.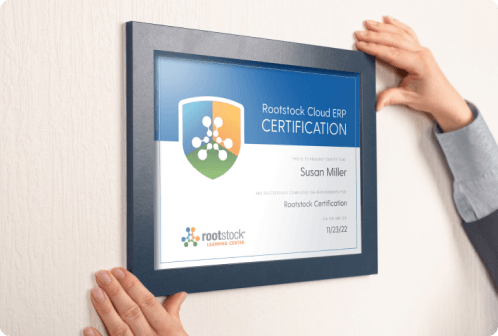 Boost Employee Retention
Productivity breeds engagement and engaged employees are happier employees.
Stay relevant and become indispensable as a Rootstock and Salesforce expert with our course offerings from beginner to expert including systems administration.
Expand your professional network and learn industry best practices from seasoned users in the Rootstock Community.
Showcase your achievements with the Rootstock Certification program.