Rootstock ERP CRM Software Features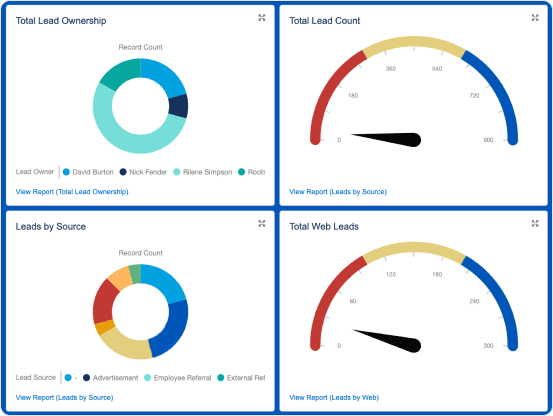 360° Customer Visibility in CRM and ERP through the Cloud
Eliminate siloed customer information with CRM and ERP information on the same, native cloud platform. Empower your sales and service teams to be more responsive, drive growth, and enhance the customer experience.
Access all information before talking with a customer, including outstanding support cases, invoices, credits, shipments, and open orders.
View real-time accounts receivable and the current credit standing of every customer.
Improve the end-to-end customer experience by consolidating sales, ordering, production, inventory, logistics, service, and support all on one platform.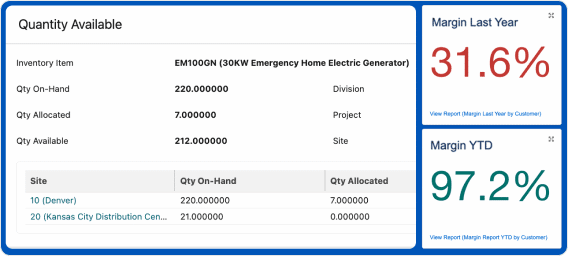 View Margin and Available To Promise Information on One Platform
Rootstock's
Salesforce CPQ Manufacturing Connector
lets you exceed high customer expectations with Available to Promise visibility for more accurate quotes.
View real-time inventory information so sales teams can set delivery expectations.
Access recent order history, margins, and costs to ensure profitable quotes.
See anticipated production queues and delivery dates to manage customer expectations.
"The ability to use Configure-Price-Quote and convert a quote into a Sales Order / Work Order / related Purchase Orders is fantastic."
"Having my ERP data on my cloud platform eliminates the need to integrate back-office data to CRM and provides real-time visibility into my available inventory, promise date and also to pricing and costs."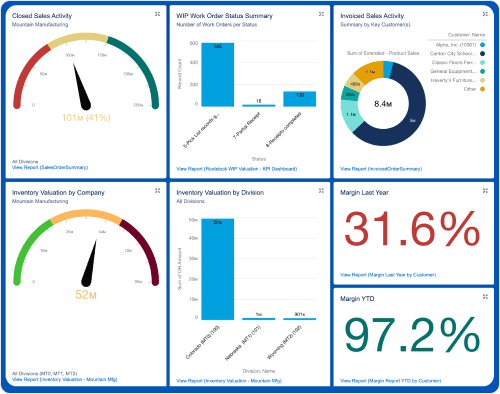 Improve Invoice Accuracy and Cash Flow with CRM ERP Software
Native CRM & ERP integration makes sales and operations data instantly available to finance and accounting teams. Improve cash flow with a flawless quote-to-cash process and shorter close and consolidation cycles.
Improve process efficiency, invoice accuracy, and Days Sale Outstanding.
Eliminate manual rework, reinvoicing, and financial adjustments.
Make accounts receivable details available to sales and service to help with cash collections and late payments.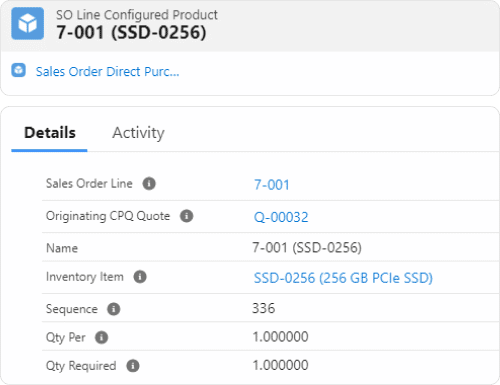 Bridge Gaps Between Workstreams with Salesforce CPQ Connector
The Salesforce CPQ Connector is a game-changer for companies producing highly personalized or configured items (
Engineer-to-Order
& Configure-to-Order) and those seeking better operational and financial insights.
Ensure complete accuracy between CPQ and ERP to increase efficiencies, eliminate errors, speed cycle times, and gain more visibility across sales, operations, and finance.
Accelerate quote generation and push quotes through the entire business cycle including production, pick, pack, shipping, and billing.
Turn quotes and estimates in Salesforce CPQ into Rootstock ERP sales orders and production schedules with one click.
Include standard products and services contracts on the sales orders within a quote.
"By integrating Salesforce CRM with Rootstock Cloud ERP, we now have a 360-degree view of the customer and are using data to continue to transform the business. Rootstock and Salesforce provided the foundation to then develop capabilities that fundamentally drive better business operations and decisions."
Integrate Salesforce CRM With Rootstock Cloud ERP Software To Increase Sales & Customer Satisfaction
Rootstock Cloud ERP is built natively on the Salesforce platform so CRM and ERP data is instantly connected. Deploying CRM and ERP software together empowers teams with the efficiency of one data model to gain 360° accurate insights into customer interactions to increase sales, improve customer relationships, and gain benefits like:
A Streamlined Quote-to-Cash Process: With all customer, sales, and production information on one platform, manufacturers can streamline the quote-to-cash process and eliminate manual steps between sales and operations.
Generate Quotes for Sales Orders In One Click: Rootstock CRM ERP system makes it easy to create sales orders from quotes in Salesforce CPQ with a click of a button.
Greater Efficiencies With All Customer Information on One Platform: Rootstock ERP CRM software gives sales teams complete production, inventory, accounts receivable, and other data, including 360° visibility of customer activity.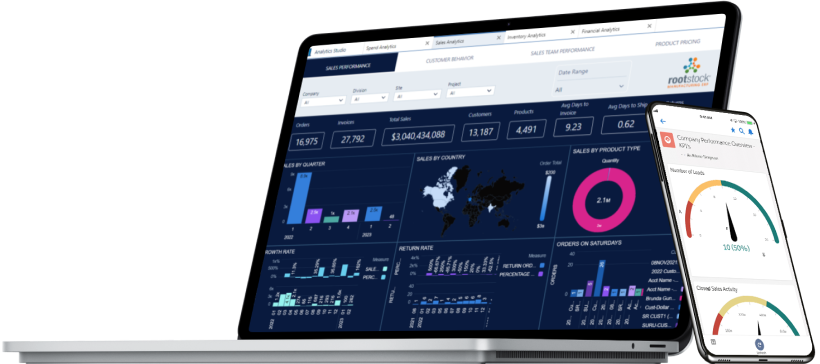 Request a Demo
See how Rootstock supply chain ERP helps any manufacturer gain full visibility into supply chains and effectively execute production schedules.