Rootstock ERP Sales Order Management Software Features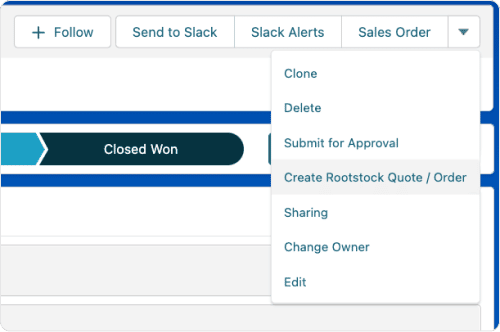 Improve the Accuracy and Speed of Sales Estimates & Quotes
Reduce quote-to-cash cycle times by automatically converting estimates Salesforce quotes into Rootstock sales orders for stock items, kits, configured products, and non-physical items. View all shop floor and engineering records in one place.
Rootstock quotes share all the features of sales orders, including all product types, for accurate conversions without manual data re-entry.
Quickly view each quote's impact on the shop floor in Rootstock Capacity Planning Workbench.
Create complex orders with different product types or add to existing purchase orders for sourced products or components.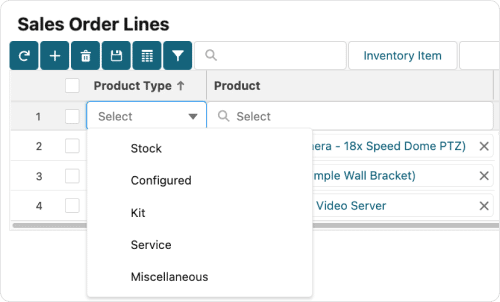 Build Consistent Configurations for Easy Sales Processing
Use Rootstock Configurator or
Salesforce configure-price-quote (CPQ)
data to guide the process of creating accurate estimates with configured pricing or for different product designs and customer needs.
Add inventory items, labor steps, service items, entitlements, and other items that factor into the total configuration price.
Quickly add a configuration to a quote line or sales order and determine accurate pricing based on known costing, pricing, and more.
Configure list pricing, pricing by customer, and discounts based on customer, sales amounts, or dates to maintain configured pricing for configured products.
Schedule a Personalized Demo for Your Team
"With Rootstock, we can automatically convert a Salesforce opportunity to a sales order. We can take a CRM transaction and a forecast, and run it all the way through to sales order, revenue booked, inventory, cost of sales, all in Rootstock, allowing us to drive more revenue."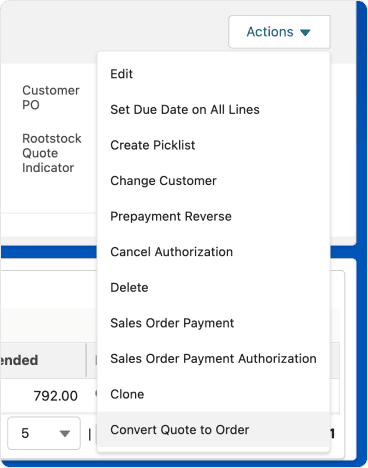 Automatically Create Sales Orders from Estimates
Rootstock order management ERP software streamlines the order-to-invoice process across a wide variety of product types and services.
Enter sales orders directly or convert from Salesforce opportunities and quotes.
Seamlessly create centralized orders for multiple divisions, warehouses, and sites.
Use APIs to transfer orders from a web store, EDI transaction set, or any other order entry system.
Use integrated Return Material Authorization (RMA) processing for advanced replacements, material receipt, rework, and shipment.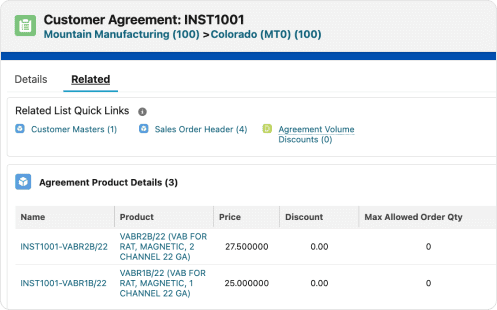 Build Flexible Pricing Books for Any Scenario
Give your customers a wide variety of pricing options with flexible pricing models while maintaining consistency across sales teams and complex configurations.
Define flexible pricing models that contain quantity-tiered pricing and customizable discount options.
Include quantity breaks, date-effective specials, customer-specific pricing, and multiple discount options across different customers and products.
Use service contracts and contract entitlements for supplies and services of installed products.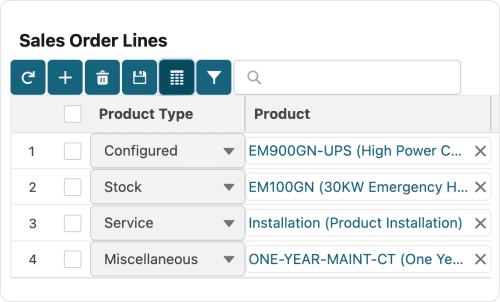 Define Unique Product Types
Satisfy changing customer demands and varying product life cycles with tailored product types that provide greater sales order management flexibility.
Choose from multiple product types for inventory items, including stock, kitted, and configured.
Process service and other non-inventory products, and recurring orders.
Define products with a variety of key attributes, including Product Commodity Code attributes to create repeatable processes that reduce manual entry errors.
Transfer and synchronize your Product Lifecycle Management (PLM) product configuration data with Rootstock Cloud ERP software.
Create Efficiencies in Your Workflow with Rootstock ERP Sales Order Management System
Seamless and highly customizable sales order management software helps your company streamline sales order management processes, improve sales order accuracy, and reduce quote-to-cash cycle times. Automate sales order management and reduce margin leakage with Rootstock.
Automatically Turn Estimates into Sales Orders: Convert opportunities and quotes created in Salesforce into Rootstock sales orders to quickly create orders for stock items, kits, configured products, and non-physical items.
Flexible Pricing Configuration Options: Set up flexible pricing models with quantity-tiered pricing and discount options, and tailor fields to include quantity breaks, specials, and customer- and product-specific pricing options.
Create Accurate Estimates with Rootstock Configurator: Create accurate and immediate estimates for different product designs and customer needs with Rootstock Configurator, and then easily add it to a customer quote or sales order.
Configure Flexible Product Types to Reduce Manual Errors: Create repeatable, error-free sales order management processes by defining products with a variety of key attributes, including commodity codes.
Improve ERP Sales Order Management with Rootstock
"The ability to use Configure-Price-Quote and convert a quote into a Sales Order / Work Order / related Purchase Orders is fantastic."
Watch a Demo
See how Rootstock Cloud ERP sales order management software works with Salesforce Sales Cloud to streamline order processing, speed quote-to-cash, and reduce margin leakage.