Equipter is a manufacturing company in Pennsylvania that designs, builds and services specialized construction equipment for roofing contractors. In the past few years, as the firm expanded its factory space and product offerings, they were still using disconnected systems to run their business. They had no automated inventory and shop floor processes, used customized accounting software for their financials and, while they used Salesforce CRM for their customer data, they couldn't integrate all of that data into a single system.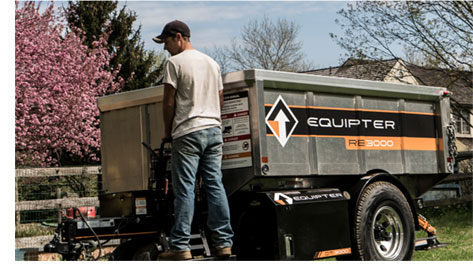 Expanding Beyond the Capabilities of their Software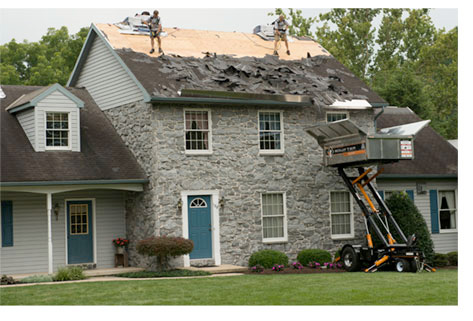 After running a roofing replacement business, Equipter founder and CEO Aaron Beiler and his family began designing and manufacturing innovative debris management equipment for roofing contractors. The company's RB4000 roofing trailer proved to be a great success, helping roofing companies and other construction firms lower their labor costs and complete jobs faster.
Says Vice-President Raymond Beiler, "The RB4000 is a portable dumpster that can drive itself around residential roofing job sites. It has a lift and a dump and is towable on the road. So, it's a pretty compact trailer/lift/dumpster."
In the 15 years since the company first started manufacturing its flagship product, they've expanded considerably. In 2016, they outgrew their original 6,000 square foot manufacturing facility and moved into their current 25,000 square foot facility. Meanwhile, they added several more products and accessories. During the process, they outgrew their old software.
They had been manually entering and duplicating data from their Salesforce CRM into their old accounting system and had little or no automation in their manufacturing and service operations.
"From where we started, we used a small legacy type of accounting system that a local company designed," describes Beiler. "We got to a place where we wanted to prepare for growth and expansion, so we started looking around at some other options."
At this point, Equipter identified two primary objectives for any future software purchase. "We had been using CRM for a number of years, and we wanted to go from manually entering or duplicating data from our CRM to streamlining that information," says Beiler. "Second, we wanted to prepare for growth in our inventory management and planning and shop processes. We were very limited with the old system that we had."
Rootstock has a lot of experience in manufacturing and the potential to adapt and work with our processes as a smaller company looking at growth and expansion.
– RAYMOND BEILER, VICE PRESIDENT, EQUIPTER
Choosing and Implementing Rootstock Cloud ERP
Equipter had already invested in Salesforce CRM and clearly saw the integration possibilities with the Salesforce Cloud Platform. They wanted a system with the flexibility to support expansion, and cloud-based ERP for industrial equipment was the logical choice for the company.
When it came time to evaluate software vendors, they looked at Rootstock and liked what they saw, especially in the area of manufacturing expertise. "Rootstock had a lot of experience in manufacturing," says Beiler, "and had the potential to adapt with our processes as a younger, smaller company looking at growth and expansion."
Implementation
It took about six months for Equipter to implement their new Rootstock solution, going live in January 2017.
The biggest challenge for Equipter was learning how to run a more complex system than their previous software. "We went from a basic accounting system to Rootstock, which was a lot more advanced than anything any of us here at the time had been used to," recalls Beiler.
Beiler also praised Rootstock's support during the implementation process. "The support was, and is, great. They walked us through each step, and as we became more and more familiar with the system, it went well."
Other cloud software vendors that Equipter evaluated couldn't match Rootstock's level of detail and the thoroughness of Rootstock's manufacturing functions.
The support was, and is, great. They walked us through each step, and as we became more and more familiar with the system, it went well.
– RAYMOND BEILER, VICE PRESIDENT, EQUIPTER
Integrating Separate Systems
Choosing Rootstock Cloud ERP on the Salesforce Platform has solved Equipter's integration problem of separate systems. The company now enjoys seamless integration between CRM and Rootstock Cloud ERP, allowing them to connect the sales side of the business to manufacturing and service and, more importantly, to have a 360-degree view of all of their data.
"It's been nice to be able to work with both ends and connect to ERP and the data that's there and have all this information in one place," says Beiler.
On the sales side, Equipter uses several third-party software packages which, while not connected directly to Rootstock, connect to different parts of sales and order fulfillment processes, such as DocuSign and Geoforce. The company sees and uses all of the different software components as a single system.
Streamlining Manufacturing Processes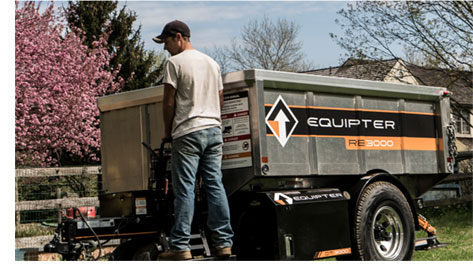 Equipter is using most of Rootstock's ERP modules, including sales orders, purchasing, inventory, engineering, shop floor management, project control and MRP. They've been especially pleased with Rootstock's streamlined inventory and MRP functions. Being able to forecast accurately has helped the company on the supply side.
"I talked with our inventory guys recently and they never want to go back," says Beiler. "That's probably by far the main benefit that we've had, the additional inventory management and control along with MRP."
Equipter also started using Rootstock Mobile about a year ago. Rootstock Mobile is Rootstock Software's mobile app for managing inventory, production, shipping, fulfillment and labor transactions. Equipter has been using Rootstock Mobile for its shop floor transactions, and it has helped the company define some of their processes around shop floor transactions.
When Equipter first implemented Rootstock, they printed work order travelers and then manually wrote on those pieces of paper. When they started using Rootstock Mobile, they were able to do all of that electronically.
"We have an iPad for each shop employee, and they have their device out on the shop floor," explains Beiler. "They're able to book their own time and quantity on their work orders. There's a lot less data entry when that comes back to the office, and then we review all those transactions and close the work order."
Increasing Inventory Efficiency
Thanks to Rootstock, Equipter has become more efficient and more productive. According to Beiler, the company had one full-time inventory manager prior to implementing Rootstock, but even with the company growing, they do more with just about the same number of people.
"This comes in light of our growth. If I'd ask that guy to manage our inventory today using our old system, he would need more people to help," says Beiler. "Even with the growth that we've had in the last few years and with Rootstock, we have just one full-time and one part-time employee involved in inventory management today. Going from being a smaller company and having about 200% growth over the last five years, we haven't had to add a lot of resources to inventory management."
Planning Future Growth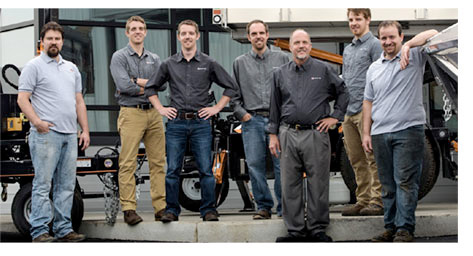 As Equipter continues to grow, they are already looking at ways to expand their use of Rootstock Cloud ERP.
The company is interested in implementing serial numbers to be able to connect serialized items to work orders and provide that information to their support reps. "We have the work orders and components, and our bills of material are multilevel building materials," says Beiler. "It'd be awesome for a customer support person to get into a serialized item and see a multilevel BOM."
Beiler says another area of possible expansion is engineering revision management. "I'm sure revisions could help us out; keeping a clear record on the engineering BOM and using that as a reference point versus using the as-built work orders as a reference point. For simplicity or a quick customer reference, that would be really nice."
Equipter is currently using QuickBooks for their accounting, but Beiler admits that the company would enjoy having their financials connected to the cloud and the customer record in Salesforce. "It's kind of down the path that we'd look at that. Do we bring that QuickBooks data back into Salesforce or do we look at Rootstock financials?"
Summary
Equipter is a company on the rise. They've experienced nearly 200% growth over the last five years and expect to grow more. Thanks to Rootstock Cloud ERP on the Salesforce Platform, Equipter has been able to integrate disparate systems into a single system that connects sales, manufacturing and service, and they've been able to increase efficiency by automating processes that used to be completed manually.
Equipter VP Raymond Beiler sums up why the company is pleased with Rootstock: "I come back to Rootstock's experience in manufacturing and just the way that they handle transactions. That's kind of shaped a lot of our processes here internally as well."
Download the Case Study
Click here to download the Rootstock Software Case Study "Rootstock Helps Equipter Streamline Manufacturing and Expand."
About Equipter
Equipter/New Heights LLC (Paradise, PA) is an American-owned, family-run business that designs and manufactures state of the art equipment to help businesses in construction, general contracting, residential roofing, commercial roofing and more improve debris removal and in turn improve efficiency. Their flagship product is the Equipter RB4000 (The Roof Buggy), a drive-able, raise-able, tow-able and dump-able construction and roofing vehicle that can fit into tight areas, streamlines the removal of roofing debris and makes jobsite cleanup faster and easier.
To learn more about the Equipter, please visit equipter.com.
More Customer Success Stories