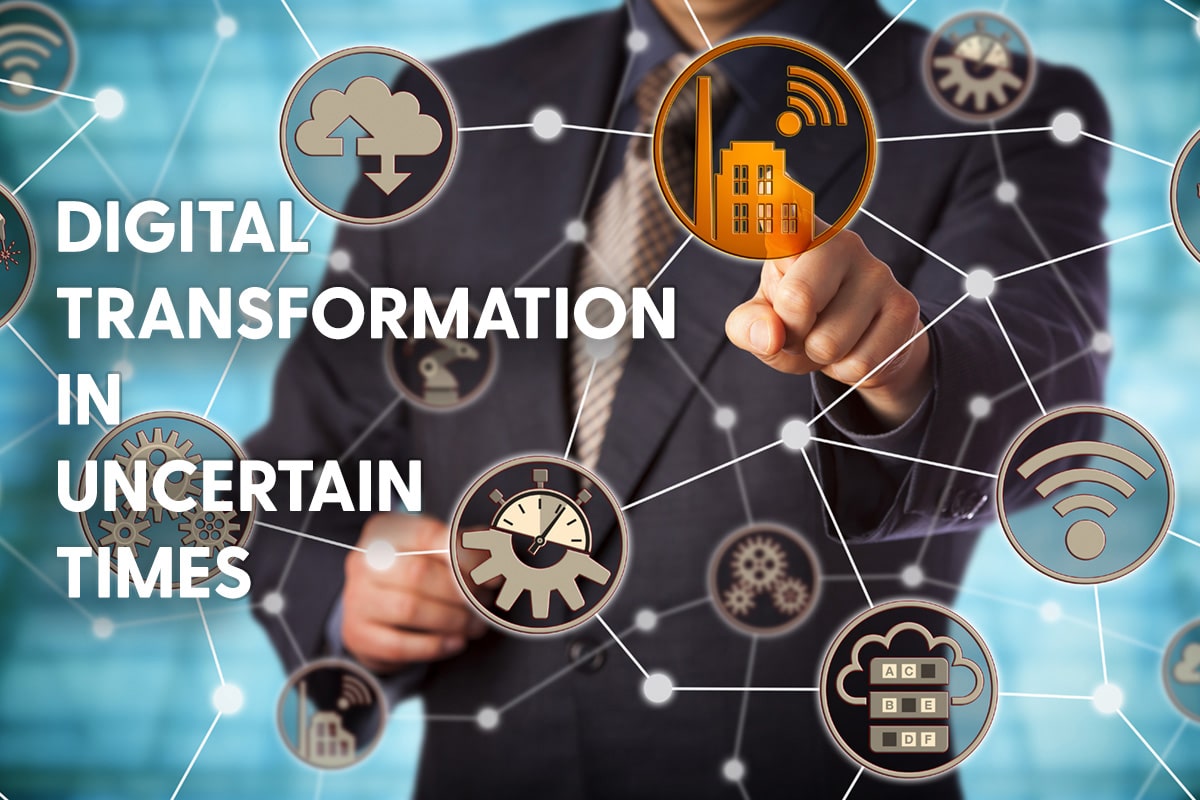 Markets today decide on winners and losers on the basis of their ability to adapt to changing market conditions. Business transformation has always been top of mind for decision makers. Agility, adaptability, anticipation of change, and the ability to react quickly to change become important ingredients for success. If you are currently looking to embark on a Digital Transformation journey, you are in for a ride as there are many options. For Manufacturing, Distribution, and Supply Chain organizations, uncertain times also put additional pressure on well-established processes and legacy systems. The choices made on the Digital Transformation journey often determine the success or failure of a company to navigate through turbulent times.
What are some of the considerations for making those choices? According to Forrester, it is not about the choice of technology, but about reimagining your company with a "digital-first" mindset. Critical data-driven decisions are fundamental to embrace change and thrive in uncertain market conditions. While the information to analyze all the parameters can be daunting and vary for every company, here are some key factors that may help simplify the exploration.
1) Built for Agility
For enterprises that are looking for a robust digital core for their manufacturing, distribution, and supply chain operations, Cloud ERP is often the right choice. However, not every Cloud ERP offering comes with the robustness and speed of transformation needed at a lower cost, especially with the economic uncertainly we are experiencing in 2020 with the global pandemic.
2) Built for the Experience Economy
As businesses transform and become part of the overall consumer economy, a great user experience for consumption and operation of your digital investments drives employee productivity and better overall return on the investment. Businesses today operate at the speed of thought at the edge on Mobile devices. Our mobile workforces are highly influenced by experiences on modern social media apps and quick internet searches. Therefore, mobile business applications require configurability, flexibility, and adaptability to match mobile consumer-experience expectations.
3) Built to Last
In business, long-term, profitable growth is the most important factor. Companies need to consider UNLIMITED growth as part of this choice. The costs of switching technology solutions have proven to be untenable, and companies have lost revenue and market share in the process of switching vendors. Today's investments need to be guaranteed for a long time because companies need to innovate, grow, and anticipate changes before they happen. Your ERP strategy must accommodate continual change and constant improvements.
So, where do we find such an option? At Rootstock, we believe that our sole mission as a company is to provide a viable option that includes the above considerations to all enterprises embarking on the Digital Transformation journey. We believe that with Enterprise Mobility, a "Clicks,-not-Code" Lightning user experience, and configurable Lightning Flows, we have built a robust Cloud ERP on the Salesforce Platform. Our solution will not only help enterprises deal with uncertain times but also help them stay competitive in a healthy economic environment, providing the basis for long-term economic growth.
No crisis should go to waste; this is the right time to invest for the long term. Call us to see how we can give you a great return on your investment with Rootstock Cloud ERP.
To see Rootstock Cloud ERP in action, watch this informative 30 minute video.