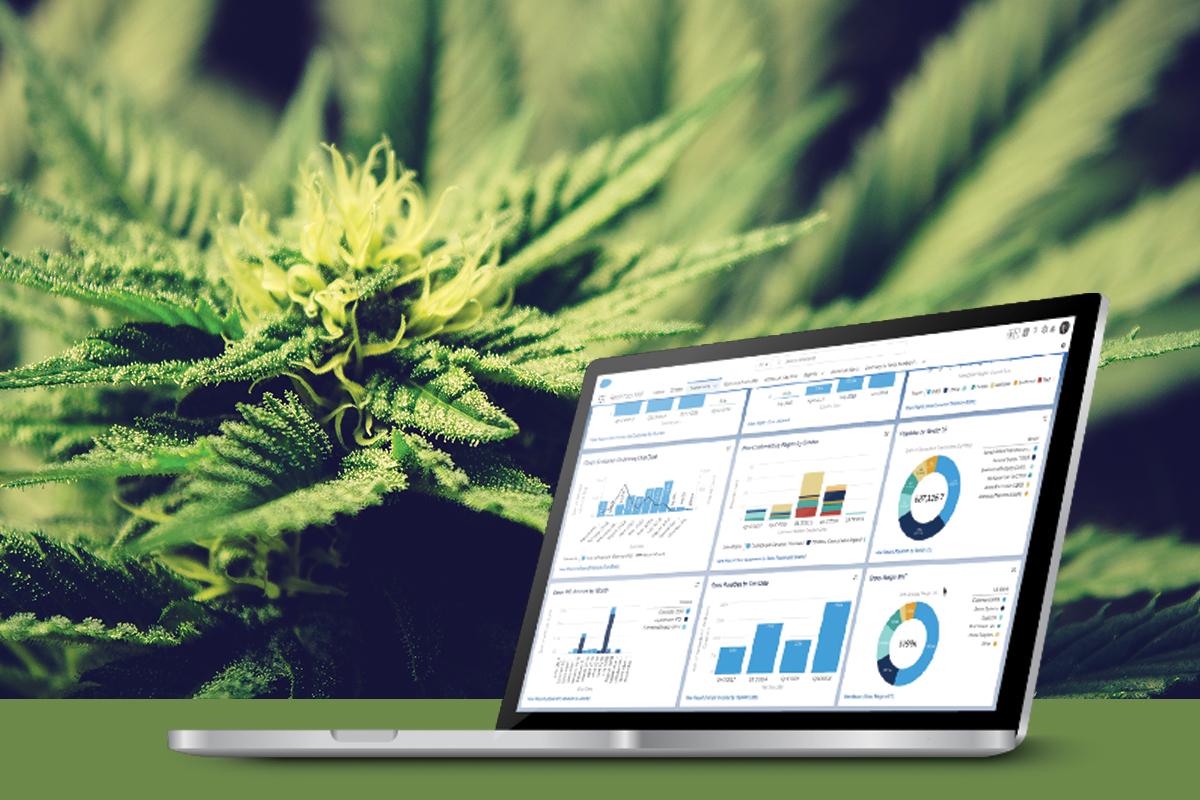 Legal cannabis has become one of the world's newest growth industries. Ever since Colorado legalized the drug in 2012, we have seen public attitudes change and multibillion-dollar companies achieve success. As these companies grow, they are attracting interest from institutional investors, major consumer corporations and Group of Seven governments; however, they're also outgrowing their operational software.
The cannabis industry is growing at a historically fast rate while simultaneously struggling to keep up with a turbulent regulatory environment. As they grow, these companies will also have to confront the same issues that manufacturers, distributors and supply chains in other industries face: how to automate inventory and supply chain processes, reduce costs and maintain quality while complying with constantly changing regulatory requirements. This is where robust and flexible Cloud ERP solutions like Rootstock Cloud ERP can help.
The Latest Statistics Show Rapid Growth
Currently, 33 states and the District of Columbia have legal medical cannabis markets while 10 states (plus Washington D.C.) have legal recreational markets. How fast are cannabusinesses growing? The numbers tell the tale.
In just the past three years, industry employment has grown 110%, which is faster than the ten-year projections for the solar, wind power and health care sectors. The cannabis industry was estimated at $10.4 billion in 2018 and is expected to grow to $21 billion by 2021.1 This translates into more than 250,000 jobs.
The compound annual growth rate of the cannabis industry between 2018 and 2022 has been estimated at around 21%. In California alone, $345.2 million in tax revenue was raised last year.2
Roughly 38 million Americans use cannabis in some form on a monthly basis,3 spending roughly $40 billion on it every year.
Annual sales of medical cannabis are projected to grow at a 17% CAGR through 2025 to an estimated $13.1 billion by 2025. Adult-use sales are projected to grow at a 16% CAGR to $16.6 billion.
According to Chief Knowledge Officer John Kagia of New Frontier Data, a cannabusiness research firm, there continues to be strong investment in the cannabis industry, as well as a dramatic reassessment of cannabis's place in society. According to Kagia, as the legalization debate in capitals and local communities across the country escalates, the issue has assumed a greater importance in the political landscape. "Nearly every Democratic presidential candidate has affirmed support for some measure of federal cannabis policy reform, adding to the likelihood of a substantial policy debate during the 2020 election cycle," said Kagia.
In addition, a majority of Americans now support marijuana legalization, according to the latest Gallup poll. Kagia says that since "support among younger voters is dramatically higher than that of older voters, the trend toward a more accepting view of cannabis will be generational."
Cannabusiness Industry Trends
There are several trends driving growth in the cannabusiness industry, as reported by industry analysts. As described in the 2019 Cannabis Trend Report by AxisWire and Green Market Report,4 these trends include increasing sales, the availability of legal cannabis and investment.
Cannabusiness Industry Trends
Sales Will Increase

Cannabis is legal in 10 states and the trend is moving toward more legalization, which will lead to more sales. This past year, more than 400 million dollars' worth of cannabis was sold on July 4th alone. Some analysts predict that the cannabis industry may grow to as much as 130 million dollars per year in the near future.

More States Will Legalize Cannabis

Recent polls found that 66% of Americans support legalization. Legal cannabis just passed in Illinois, and activists are working to get it legalized in more states, including Connecticut, Minnesota, New Hampshire, New Jersey, New Mexico, New York and Rhode Island. The first cannabis café recently opened in California.

Different Types of Products Will Be Created

There are already new cannabis products available with more on the way. For example, more varieties of edibles are being developed, and cannabis-infused beverages are expected to become more popular, with Molson-Coors and Coca-Cola expected to enter the market.

Meanwhile, cannabis customers are becoming more sophisticated, and some companies are marketing luxury brands to them. As legalization expands, experts believe that the demand for luxury brands will increase. Investors are already looking to invest in these luxury brands.

There Will Be New Uses for Medical Marijuana

Researchers are looking more closely at medical marijuana and discovering some intriguing possibilities. Scientists may be able to synthesize new compounds derived from natural cannabinoids in the plant itself to develop new anti-cancer therapies.

Cannabidiol (commonly known as CBD) may have antibiotic effects, which could lead to the development of topical antibiotic CBD creams.

More Companies Will Specialize in Distribution

The cannabis industry is becoming more specialized. Multi-state operators are cornering the cultivation and retail markets, creating opportunities in distribution. In California alone, there are now over 150 distributors. Cannabis distribution can be expected to increase over the next few years as more states consider allowing interstate cannabis distribution deals.

Cannabis Stocks Will Attract More Investment

As the cannabis market grows, so will investment. While these investments carry some risk, there are several companies that are positioned to perform well, such as Aphria, Canopy Growth and Cronos Group.

For example, Aphria, one of the largest cannabis companies in the world, recently announced increases in cannabis sales and profitability for FYQ1. Their net revenue increased 849% over the prior year period to CAD 126.1 million and, compared to Q4, their cannabis revenue increased to CAD 30.8 from CAD 28.6 million.

Manufacturing Infrastructures Are Expanding

As cannabis consumers become more sophisticated and the variety of available cannabis products increases, the products themselves must change to meet the demand. Companies that operate in multiple states are building up their infrastructure. Canadian pharmaceutical and cannabis company Tilray recently announced a CAD 32.6 million manufacturing and production expansion. There are almost 600 cannabis manufacturers in California alone. Due to the increasing popularity of sophisticated cannabis brands, experts predict similar growth in the value of cannabis manufacturers.
Rootstock Cloud ERP for Cannabusiness
With more cannabis manufacturing comes the need for more modern tools, such as Enterprise Resource Planning (ERP). The dramatic growth of the industry has revealed the limitations of the manual and entry-level ERP systems that cannabusinesses have been using. Clearly, these companies need a more robust, modern cloud-based ERP system that collects data, manages production, generates reports and streamlines business operations. The cannabis industry is subject to extremely complex and constantly changing regulations, so their need for powerful and flexible operational software is even more critical.
Whether you are a processor, packager, distributor or need a complete seed to sale system, Rootstock Cloud ERP meets the ERP requirements for medical, recreational, health and hemp-based products. It is a comprehensive solution that includes order processing, production management, supply chain management, inventory management, costing, financial management and more.
The one constant in cannabusiness is change. Changes in markets, products, regulations and suppliers are continual and often dramatic. Keeping your company compliant and under control while it grows and matures can be challenging. Rootstock Cloud ERP is built to help you navigate through multiple stages of growth and business changes:
Easy to configure, change and upgrade.
Manage multiple product types, product lines and manufacturing modes.
Adapt quickly to new customer needs and business challenges.
Install controls through all stages of the production and distribution process.
Use end-to-end audit trails across sales, operations and finance.
That last bullet is critical to the cannabis industry. Industry regulations continue to evolve and require cannabusinesses to: track everything using batch numbers, including ingredients; have complete visibility into sources of supply and delivery destinations; meet liability requirements if an ingredient is recalled; and most importantly, keep consumers safe. Rootstock Cloud ERP's lot and serial number tracking, complete traceability and compliance reporting help cannabusinesses meet their regulatory requirements.
Additional Resources
For more information on how Rootstock Cloud ERP can help companies in the cannabis industry, see our Cloud ERP to Grow Your Cannabusiness page.
Our webinar "Driving Strategic Advantage for your Cannabusiness" includes important information on compliance in the cannabis industry. Watch it here.
Our new eBook, "6 Business Software Must-Haves to Grow Your Cannabusiness," tells you what you need to know when looking for the right operational software to run a cannabusiness for medical, recreational, health, hemp-based and CBD products. Download it here.
"As of 2019, Legal Cannabis Has Created 211,000 Full-Time Jobs in America," Leafy, March 4, 2 019, https://www.leafly.com/news/industry/legal-cannabis-jobs-report-2019
"The U.S. legal marijuana industry is booming," CNN Money, January 31, 2018, https://money.cnn.com/2018/01/31/news/marijuana-state-of-the-union/index.html
"The U.S. Cannabis Report 2019 Industry Outlook," New Frontier Data
https://newfrontierdata.com/product/u-s-cannabis-report-2019-industry-outlook/
"2019 Cannabis Trend Report" by AxisWire
https://www.greenmarketreport.com/reports/2019-cannabis-trend-report/