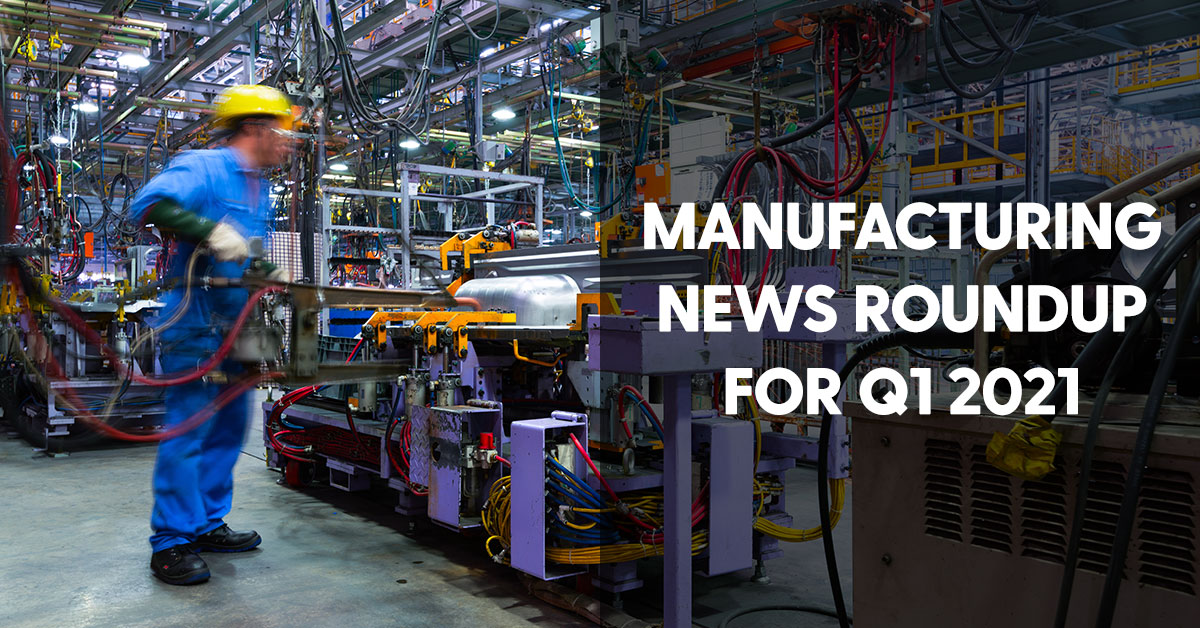 COVID had a huge impact on the manufacturing industry in 2020, and manufacturers are still feeling its effects on their operations. But there is good news amid the supply chain disruptions of the pandemic. Many companies have been forced to become faster and more resilient than ever, and there is a surge in the demand for goods.
Here's a summary of some of our favorite manufacturing news stories from Q1 2021 that you might have missed.
U.S. Manufacturing Sector Index Races to 37-Year High in March
The Institute for Supply Management (ISM) has reported that its index of national factory activity increased to its highest level in more than 37 years in March, driven by strong growth in new orders. This is the clearest sign yet that an anticipated economic boom is underway.
US Manufacturing Activity Jumps to Three-Year High
The Institute for Supply Management reported at the beginning of March that its survey of manufacturing activity rose to 60.8% in February, which was 2.1 percentage points above the January level of 58.7% and the strongest manufacturing performance since February 2018.
The 10 Most Innovative Manufacturing Companies of 2021
Fast Company recently published their list of the ten most innovative manufacturing companies. The list includes companies that are manufacturing a better vial in which to carry COVID-19 vaccines, biodegradable packaging, and on-demand fabrication that reduces waste.
Manufacturers' Optimism Continues to Rise
The National Association of Manufacturers' first Manufacturers' Outlook Survey of 2021 was released recently and showed manufacturers' optimism increasing to nearly 88%, This is the highest level in two years and an increase of 74% over the Q4 2020 survey.
DOE Announces $52.5 Million to Support U.S. Manufacturers and Industrial Workers
The U.S. Department of Energy recently announced up to $52.5 million for its Industrial Assessment Centers (IACs) that help American manufacturers and wastewater treatment facilities improve their efficiency, save money, and reduce their carbon footprint. IACs are university-based training programs that also create a pipeline for students looking to join the growing clean energy economy.
Column: Global Manufacturing Surge Accelerates Goods Inflation
Reuters recently reported a surge in global manufacturing activity as government support programs and low interest rates protect consumers' incomes while restrictions on leisure travel and other services divert consumer spending into merchandise.
Walmart Investment in U.S. Manufacturing Targets Textiles
As reported by multiple news sources, Walmart, the world's largest retailer, announced plans to invest $350 billion in products made, grown or assembled in the United States over the next 10 years, including textiles, plastics, small electrical appliances, food processing, and pharmaceutical and medical supplies. Walmart says this move will help create 750,000 jobs.
UK Government to Boost Aerospace Manufacturing With £90mn
Manufacturing Global reported that the UK government announced plans to boost aerospace manufacturing in the country with a £90mn investment in five projects. The goal of the funding is to improve aerospace manufacturing by developing technology to make production lines quicker, more efficient, and more cost-effective.
Ericsson's 5G Smart Factory Recognized as Global Lighthouse
The World Economic Forum recently awarded Ericsson's USA 5G Smart Factory in Lewisville, Texas its "Global Lighthouse" designation for its deployment of next-generation technology. The site reported a 2.2 times improved output per employee when compared to similar manufacturing sites without automation or Industry 4.0 improvements.
SPOTLIGHT: Medical Device Manufacturing News
The following news articles are of particular interest to medical device manufacturers.
A Look Ahead: U.S. FDA and Medical Device Regulations in 2021
A recent article by JD Supra looks at some of the initiatives and activities of the Food and Drug Administration that are worth following in 2021. The most anticipated FDA initiatives include medical device servicing and remanufacturing, additive manufacturing, and medical device cybersecurity.
Medical Device Supply-Chain Operations and Pandemic Pitfalls: Strengthening the Chain
MDDI recently published an article about the gaps in medical device supply chains revealed by the pandemic. The article describes the pressure points in the medical device supply chain and how modernization can help manufacturers overcome those challenges.
Bringing Manufacturing to the U.S.
Finally, the following news reports provide examples of manufacturing coming to the U.S.
European Manufacturer Brings North American HQ to Kentucky
Belgian manufacturer Soudal has opened its North American headquarters in Elizabethtown, Kentucky. Soudal is the largest independent European manufacturer of sealants, adhesives, and polyurethane foams.
Portugal-based Colquímica Adhesives to Open First U.S. Manufacturing Facility in Charlotte
Colquímica Adhesives, a Portugal-based manufacturer, opened a new 100,000-square-foot manufacturing facility in Charlotte, North Carolina in March. The company invested $12 million in the facility and will hire 30 new workers there in the short term.