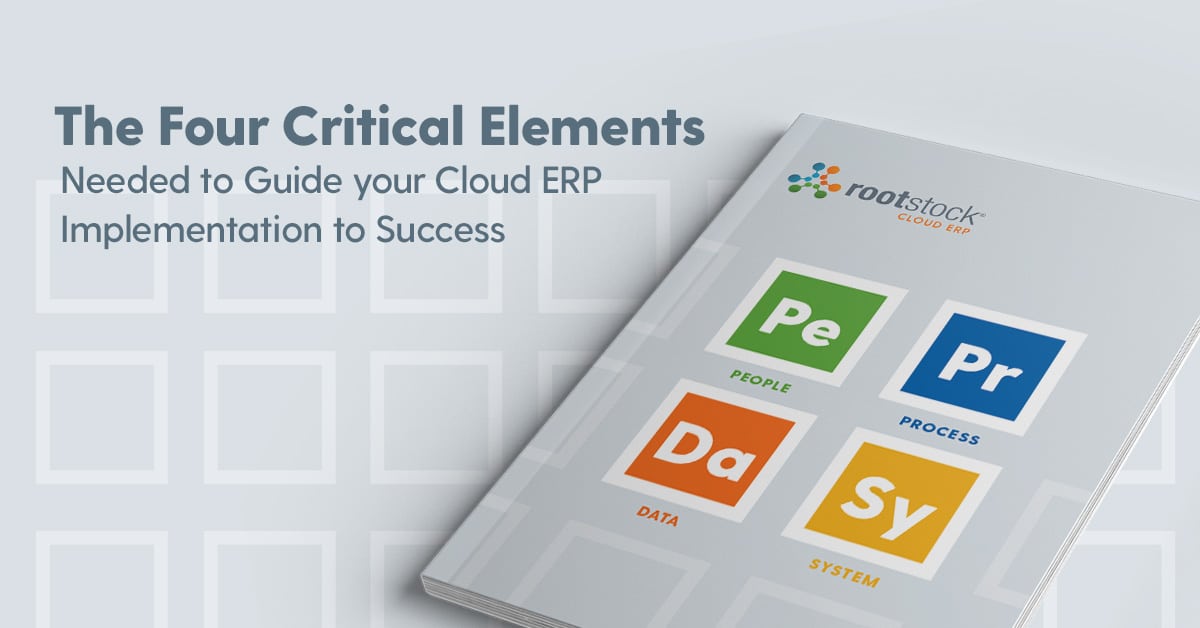 The right cloud ERP solution can catalyze transformation across your manufacturing business, from sales through customer service, and the critical engineering, production, supply chain, inventory, and other functions along the way. If you're early in the process and still evaluating solutions, check out our Cloud ERP Evaluation eBook. It provides a checklist to ensure you select the right solution for your needs. However, if you've already selected your cloud ERP system, all that stands between you and success is implementation.
Implementation takes more than just flipping a switch, however. It's where you dig into the details of your operations, optimize the flow of data and materials, and move your processes onto the chosen solution. The best way to ensure success is by leveraging the experience across hundreds of cloud ERP implementations in dozens of industries. To help, we've packaged everything together for you in The Four Critical Elements Needed to Guide your Cloud ERP Implementation to Success eBook.
Successful cloud ERP implementation begins with a plan that considers the interconnectedness of the four critical elements of success: people, process, data, and systems. This new eBook breaks each element down so you can develop a cloud ERP implementation plan customized to your specific needs.
Obviously, implementation requires a significant investment of time, people, and resources. It's not something to enter into lightly, and also not something to rush or a chance to cut corners. Understanding the scope of a cloud ERP implementation and how it impacts those four elements will help you set expectations across your company, select the best people to join you, and ensure the right resources are available at the right times along the way.
This cloud ERP implementation eBook describes, in plain, easy to understand language, how you can approach and assemble these elements to keep your project on the right path. It shows you what's required for success, but also how to split your effort and focus into these vital areas of value:
1 – People – Cloud ERP implementation takes more than just technical and process knowledge. You need people with process understanding, real experience, and deft project management skills.
2- Process – Cloud ERP brings a new level of control and insight to your operations, but it can only be successful if you understand how your business truly operates today. Hands-on experience is critical here, as is documentation and metrics.
3 – Data – Data is both the foundation of cloud ERP and one of its most valuable outputs. But, most companies have data silos and data cleanliness issues that must be addressed before that data is integrated.
4 – System – Your cloud ERP solution will become the nucleus of your operations after implementation. It's a platform, designed to connect with other systems and teams, and always adapting to your shifting and expanding needs.
The Four Critical Elements Needed to Guide your Cloud ERP Implementation to Success gives you a strong base on which to develop your own implementation plan. It will focus your efforts on what's best for your operations, needs, and expectations, and may highlight areas of concern you haven't considered. And, as always, if you have any questions or need expertise along the way, Rootstock is here to help.