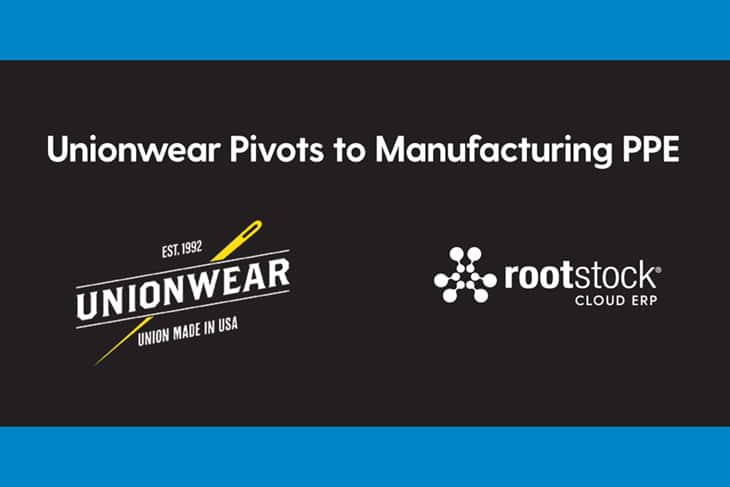 Under normal circumstances, Unionwear is the leading manufacturer of union, made-in-USA headwear, bags, accessories, work wear and safety gear. 2020 was shaping up to be a great year for the New Jersey-based company – between the presidential campaign, the Olympics, the US Census and other events, Unionwear's employees would be busy all year.
But when the Democratic presidential campaign abruptly ended and the coronavirus pandemic arrived, circumstances became anything but normal.
"A lot of our jobs were canceled," says Mitch Cahn, Unionwear President. "We do a lot of event merchandise, and a lot of events were canceled and some of our military projects were scaled back to make funds available for emergency relief."
Like many companies coping with the challenge of operating with mandated social distancing amid sharply reduced economic activity, Unionwear quickly went from trying to keep up with orders while working at full capacity to not having much to do at all. The company cut their staff, sent workers home and tried to figure out how to succeed in a world changed by COVID-19.
Then they decided that they needed to come up with a new business model to carry them through the crisis.
The pandemic created a huge demand for personal protection equipment (PPE) to keep front-line health care workers, law enforcement and essential employees safe. Unionwear not only wanted to shift production to keep operating but also to make a difference.
Shifting Production to Face Masks and Gowns
Unionwear has its name because its staff is unionized and a part of Workers United, which is affiliated with SEIU, the union that represents hospital workers in New York City. Mitch Cahn met with the union and hospital association to find out what PPE the company could produce.
The company already had suppliers of the materials they needed to produce PPE. The company also had suppliers for foam and clear vinyl, as well as the materials that go into headbands, and elastic to make the masks adjustable. They decided that because these and other materials needed were already on hand, Unionwear would make clear vinyl face shields and reusable gowns.
The company worked with their suppliers to ensure delivery of the raw materials, and then came up with a design. In an interview with NJTV, Cahn said that Unionwear was able to design a face shield right away, a model that turned out to be very simple to sew. He sent prototypes to the hospital association on March 24, received orders the same day and started production the next day.
They were also able to make lighter-weight surgical gowns with waterproof-lining and a tight fit to prevent moisture from getting through. These gowns can be reused up to 50 times.
Workforce Challenges
A big challenge that Unionwear had to overcome was how to make optimal use of their workforce under pandemic restrictions. Mitch Cahn says that the biggest hurdle for the company has been making sure the employees both have work and are safe when working.
"We were able to stay open because Governor Murphy (of NJ) designated all manufacturers as essential businesses, provided we stay under 50 people in the facility," Cahn told NJTV. "We found that we had a lot of workers who had home sewing machines that could take work home, so we could actually employ more than 50 if we wanted to."
The factory couldn't be full of workers, so Mitch Cahn reformatted production for a smaller workforce. In the first week of April, 36 people came to work in the 70,000 square-foot factory, and 24 worked from home.
The company is positioning their workers a safe distance from each other. Because Unionwear doesn't want multiple people touching the same garment or the same product, they are supplying the workers with the hospital gowns, masks and shields that they make, as well as hand sanitizer and gloves.
"It's a challenge to get 30 to 40 people in every day out of 180 so we have people on call and we're doing the best that we can to get people in," said Cahn.
Lean, Adaptable and Customer-Focused
In leanblog.org podcast Episode #364, Mitch Cahn talked about how lean manufacturing principles helped Unionwear overcome the challenges presented by completely shifting production to PPE.
"We're creating an entirely new product line in a couple of days," Cahn said. "So many things were an afterthought: What is the product called? How much does the product cost? How do we pack it and ship it? We had to train all our salespeople on it." Unionwear had to do all this in just days, and they're still working through those challenges.
One of the core principles of lean manufacturing is rapid-cycle improvement, which is a quality improvement method that identifies, implements and measures changes made to improve a process or a system. Rapid-cycle improvement implies that changes are made and tested over periods of three or months or less.
Unionwear is using rapid-cycle improvement on their PPE products. Cahn told leanblog.org, "Every aspect of operations right now is being tweaked and continuously refined because we find better ways to do it or circumstances are changing, and they do change frequently."
How Rootstock on Salesforce Helps
Unionwear uses lot of online tools, such as Rootstock Cloud ERP on the Salesforce cloud platform, to help answer questions from sales or make production decisions on the fly. "It's challenging and exciting," says Cahn.
Since going live with Rootstock Cloud ERP in 2014, Unionwear has increased its flexibility and operational agility. Mitch Cahn says Rootstock made it possible to transform their company. A single database provided all the information they needed to develop new products and set up a webstore for customers to buy customized products. The company's sales tripled after implementing Rootstock Cloud ERP.
Talking about the switch to manufacturing PPE, Cahn said, "There is zero chance we could have done this without Rootstock and Salesforce."
Because company employees have become experts at Rootstock Cloud ERP and Salesforce, it was easy for them to work from home. All communication on orders is done through Salesforce Chatter. Service reps can access order information instantly from home. The company switched to all cloud-based software and Cahn said that this environment is perfect for remote work and even helped them to become paperless.
Adding new products is easy in Rootstock. "It's a snap," said Cahn. "Everything involved in adding new products, including raw materials and processes, has become second nature for us."
For example, making a face shield a stock item was as easy as checking a box on the screen. They can explode a face shield assembly into component parts and track where raw materials are coming from for the PPE they are making. Says Cahn, "Everything started with where do we report this? What happens if we can't get certain raw materials?" These were questions asked at the beginning of Unionwear's PPE manufacturing and Rootstock made that process easy.
Rootstock Cloud ERP helps Unionwear figure out exactly how much time it takes to make a product, a benefit that will make it easy for the company to get back to their normal business.
Right now, Unionwear is facing overwhelming demand for their PPE products. The company has also been getting feedback from customers about what they like, how the product fits or how it's put on and removed. Cahn says that they're listening to their customers and putting their feedback into refining the products.
Success Story
Unionwear turned its sudden struggles into a success story, both for the company and for the fight against the coronavirus.
Mitch Cahn estimates that the company was set to make 700,000 hats for the presidential campaign by the end of the year, 100,000 hats for U.S. Census takers, and anywhere from 50,000-200,000 hats for the U.S. Olympic team. All of these products were to be produced and sewn by the company's 170 workers in its Newark plant.
Now, Unionwear is making 10,000 to 15,000 face shields a day but has capacity for up to 25,000 or 30,000 a day. The company is also making 1,200 gowns a day, with capacity for up to 3,000.
Since they switched production to PPE in late March, Unionwear has produced 50,000 face shields and 12,000 washable and reusable gowns. The company's new PPE products continue to be in high demand and Cahn told NJTV they are getting big orders from hospitals, police departments, sanitation departments, corporations, nursing homes and dentist offices.
Making a Difference
Mitch Cahn says that the main factor in switching production to PPE was the motivation to make a difference. With the supplies available and employees willing, Cahn said the decision, both from a business and moral standpoint, was a no-brainer.
"We're in a position to make a tremendous difference in people's lives," Cahn said. "We don't want to waste that opportunity. That would be a tough thing to live with if we could have done something but instead decided to stay home."
Additional Resources
If you'd like to read more about Unionwear's efforts in the fight against COVID-19, there is plenty of media coverage, including these interviews with Mitch Cahn:
If you'd like to read more about how Unionwear is using Rootstock Cloud ERP, we think these Rootstock resources will be most helpful: