What is Salesforce Manufacturing Cloud?
A key to maximizing profitability in manufacturing is accurate forecasting. Salesforce Manufacturing Cloud brings your manufacturing sales and operations teams together around a unified customer view to deliver more accurate account-based forecasts.
Combined with Rootstock's powerful 360° Sales and Operations Planning solution, Salesforce Manufacturing Cloud helps you create more precise production and supply chain plans.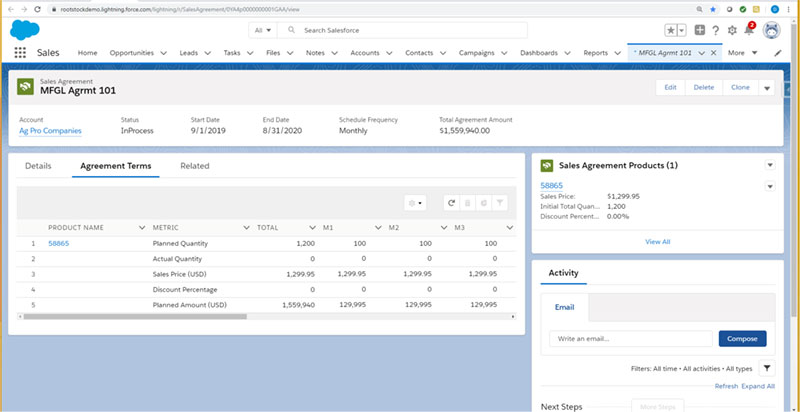 Manufacturing Cloud Sales Agreements
Sales Agreements let you unify your run-rate business with ERP data and order management systems with negotiated contract terms – including planned volumes and revenues – so both sales and operations teams can have a 360-degree view of the customer.
View everything about an agreement on a single screen, including start and end dates, frequency, status, and product and price details.
See exactly how an agreement has performed in terms of customer behavior (underperforming or overperforming against the agreement).
Manage the full sales agreement lifecycle and, with visibility into committed and actual order volumes, the performance of the agreement against the forecast and other time-phased custom metrics.
Ensure a single source of truth with agreement changes that are immediately incorporated into the existing sales agreement.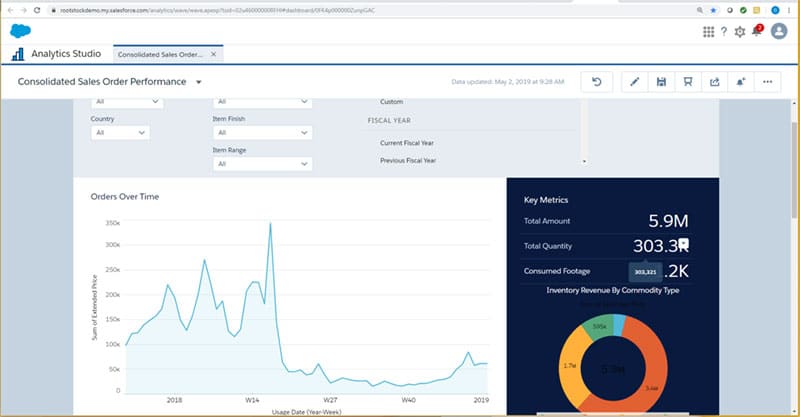 Manufacturing Cloud Account-Based Forecasting
Account-Based Forecasting gives your sales, finance and operations teams a complete view of your current business together with future opportunities.
Develop more accurate forecasts while breaking down internal silos.
Add updates that reflect changing customer needs or market demands.
Make business transactions, profits and revenue margins more predictable by collaborating and adjusting forecasts in real time.
Create your own forecast algorithm based on the metrics and inputs that reflect your business.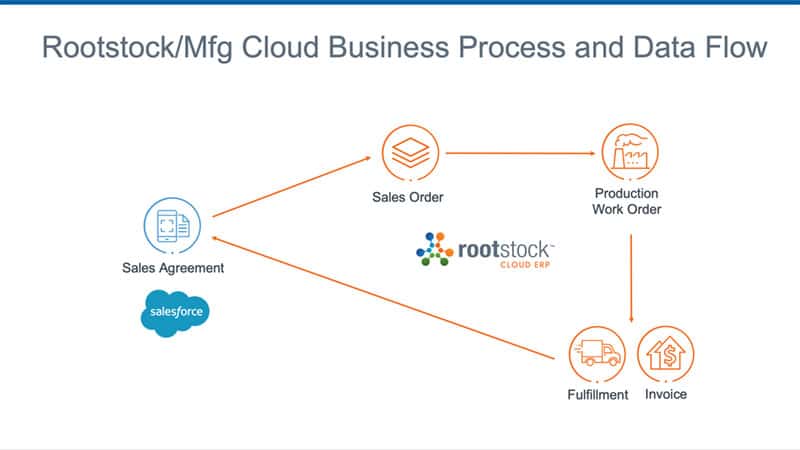 Rootstock Sales and Operations Planning Solution
Rootstock's 360° Sales and Operations Planning solution synchronizes with Sales Agreements and Account-Based Forecasts in Salesforce Manufacturing Cloud to help ensure accurate sales forecasts, maximize revenue, and create more precise production and supply chain plans.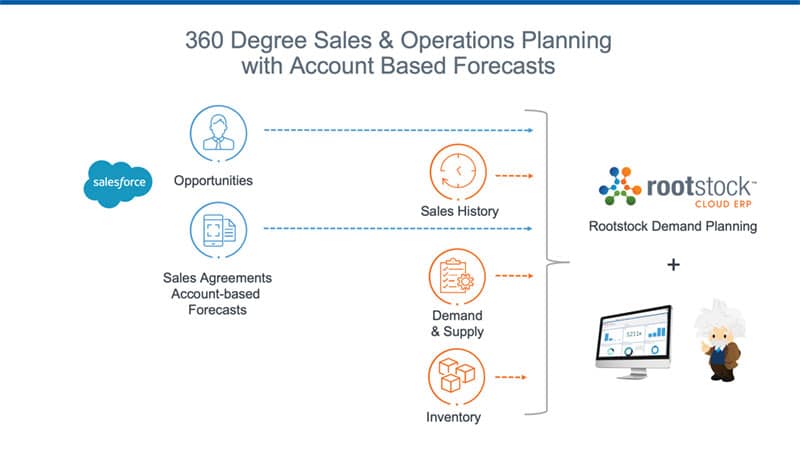 Salesforce Manufacturing Cloud and Rootstock Cloud ERP
Rootstock's Sales and Operations planning engine consumes sales forecasts from Manufacturing Cloud to improve the quality of your production, procurement and distribution plans. Rootstock Cloud ERP also feeds actuals to Manufacturing Cloud to track compliance against sales agreements.
Provide ERP visibility to sales teams to generate more accurate sales forecasts, including real-time updates on actual orders to better manage accounts, monitor progress against agreements and predict future ordering volumes.
Compare aggregated, vetted data from Account-Based Forecasting to existing orders, net current inventory and supplies.
Generate a go-forward plan for production and procurement, minimizing stockouts and overstocking while improving lead times, cash flow, revenue and profitability.
Turn inputs from Sales Agreements into actionable requirements within the supply chain.
Learn More About Cloud ERP for High-Tech and Electronics Manufacturers