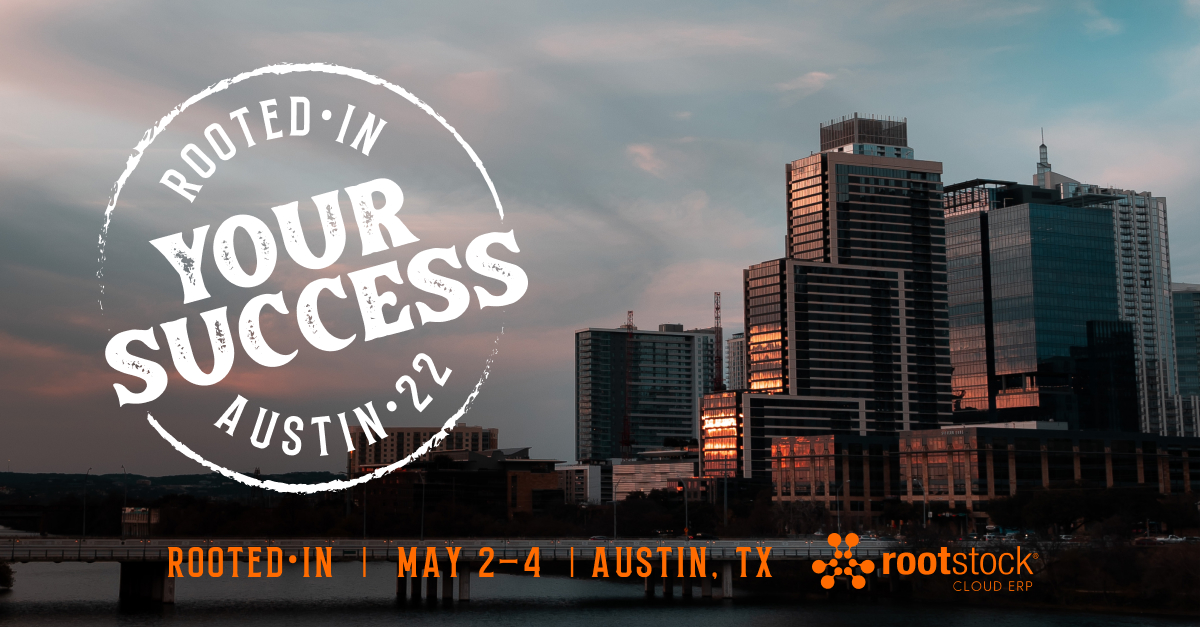 We couldn't be more thrilled to tell you about Rooted·In, Rootstock's first-ever customer conference! It's happening May 2-4 in Austin; Texas and we hope to see you there.
This year is already off to an amazing start. Economic indicators continue to point up, supply chains – while still tight – are starting to flow more freely, pandemic uncertainty is ebbing, and manufacturers continue to transform how they operate to see around these types of challenges.
Rootstock customers, however, have always been a step or two ahead of those challenges…and the competition. And we want to keep them – keep you – continually out in front because our success depends on your success. We are, truly, rooted in your success, which explains the event's name. And we want to celebrate that success and give you the capabilities, knowledge, and connections to continue your growth.
Rooted·In is our chance to get together, learn, share, and continue this journey by hosting our customers on May 2-4, 2022, at Hotel Van Zandt in downtown Austin, Texas. (Yes, we'll be getting together, in person. It's about time, right?) The event is entirely free to all Rootstock customers. You'll only need to cover your travel and lodging.
Click here to learn more and register for Rooted·In.
Our team is building an exciting and engaging agenda you won't want to miss. You'll hear keynotes from industry experts, learn new techniques during deep-dive breakout sessions, and have plenty of fun networking and enjoying Austin's great food and music with other Rootstock customers, executives, and product experts.
Here's just a glimpse of some of the session topics on tap for Rooted·In:
Engage and interact with your peers to discuss current staffing shortages, how automation is impacting manufacturing, the latest supply chain challenges.
Learn how to put more Rootstock features to work across financial reporting, sales and operational analytics, purchasing, cost accounting, and more.
Get technical with sessions on API integrations, using Salesforce Lightning, and using bots and AI.
Hear case studies from Rootstock customers.
Hear from salesforce and leading market analysts about manufacturing and technology
We are really excited to put together such a great agenda. We know you have limited time so this event will be jammed with value you can take back and put to work right away.
Click here to learn more and register for Rooted·In.
We'll see you in Austin!