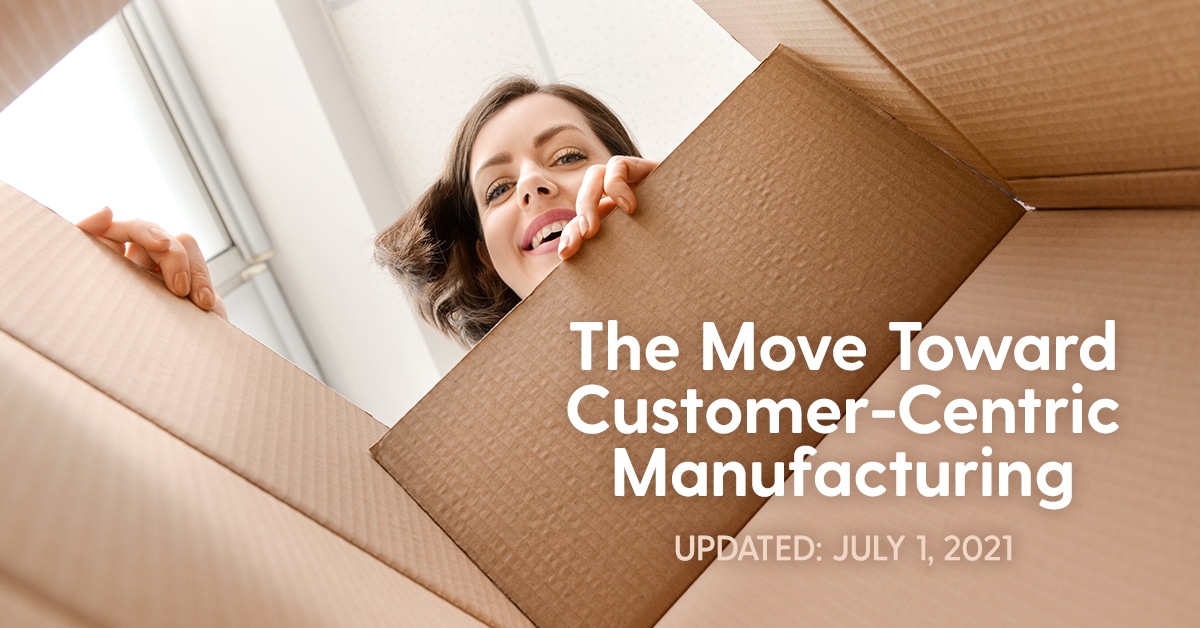 Originally published April 25, 2019, updated July 1, 2021
Customer-centric manufacturing isn't just the latest industry buzzword. It's a real shift in business strategy that puts the customer service first, both for your products and your services. It offers a way for manufacturing companies to satisfy increasing customer expectations, differentiate with more personalized products and retain more customers with top-notch customer service.
What's Driving the Increased Focus on Customer Service in Manufacturing?
We are all familiar with the phrase "The customer is always right." As smart consumers, we may be skeptical that businesses always adhere to this philosophy, but it has never been truer than in the manufacturing industry today. There are several additional reasons why manufacturers are embracing customer-centric strategies.
1) The Amazon Effect on Customer Service
The rise and popularity of Amazon.com and its imitators has helped fuel this rise in customer expectations. Because of this "Amazon Effect," people all over are now accustomed to shopping online, often on their cell phones, to quickly find and configure products to suit their individual needs and receive delivery as quickly as possible. These expectations are not just ingrained in Business-to-Consumer (B2C) markets, it is for Business-to-Business (B2B) markets as well.
Because of these changing customer expectations, businesses in every industry need to rethink their business models. Every business needs to be more attuned to these digitally aware buyers in order to remain competitive. Manufacturers are no different.
2) Personalized Product Competition
Increased customer expectations have led to more customized and personalized products as a component of customer service in manufacturing. Many manufacturers have moved from mass producing standard products to configurable or completely custom products.  Some manufacturers win and keep customers because of their flexibility and ability to produce these customer specific items. rather than compete with products that could be considered commodity items.
Examples of product personalization are everywhere. Consider a private jet. The original manufacturer may build a standard aircraft body, but when it comes to the rest of the jet, customers have a variety of configuration options. Companies that sell private jets let customers configure everything online, from the floor plan, including living spaces and conference rooms, to the color scheme. But today, this concept can apply to cars, bedsheets and snowplows too.  The ability to personalize products is everywhere and customers have come to expect it.
3) Customers Want A Personalized Customer Experience… and It Is Profitable!
It's not just personalized products that customers are demanding. They expect a personalized customer experience with every interaction they have with your company from sales, to shipping, to service, to accounting.  And according to a study by Bain & Co, if you provide great service, they will be rewarded by customer loyalty.
---
"Companies that excel at customer experience grow revenues 4%-8% above their market. That's because a superior customer experience earns stronger loyalty, turning customers into promoters with a lifetime value 6 to 14 times that of detractors."  – Bain & Co.
---
The Bain study continues to describe how superior customer service leads to faster growth and more sustained profitability for customer-centric companies than their peers. Great customer service pays!
Download the eBook: 5 Ways Manufacturers Can Exceed Rising Customer Service Expectations
What ERP Capabilities Can Support Customer-Centric Manufacturing?
So how does a company rise to the meet these competitive pressures and rising customer expectations for personalized products and a better customer experience? It requires two essential things:
1) Unified approach to CRM and ERP
2) Operationally agile ERP system
Unifying CRM and ERP
At the core of customer-centric manufacturing is the need to combine all the data that touches customers into a single cloud-based system including marketing, sales, operations, service and financial data. All this information needs to be digitally shared with the right people at the right time to provide superior service. Although this sounds simple, it isn't easy for many companies.
Poorly Integrated CRM & ERP Systems Are Holding Companies Back
One barrier to combining CRM and ERP information is that traditional IT strategies keep these systems apart. ERP and CRM are often provided by different software vendors on different platforms. Customer and sales data is maintained in the CRM system, while the manufacturing operational data is managed by an ERP system. Several problems arise from having different databases and poor integration between CRM and ERP:
Inefficient and inaccurate quote to cash processes.
Manual ordering and poor sales-to-operations hand off processes caused by the bifurcated systems, lead to errors on orders, shipments, change orders and invoices – which all create customer dissatisfaction.
Sales is cut off from operations, preventing them from having the latest Available to Promise (ATP) information.
Without this ATP information, sales teams are vulnerable to losing businesses to competitors that respond more quickly. And if Sales can't provide accurate ATP information, it leads to incorrect customer expectations and ultimately poor customer satisfaction.
Employees Can't Get Access to Information to Answer Customer Questions
When data is separated in different systems such as CRM and ERP, it prevents front line employees from having the information to answer simple customer questions like "Where is my order?" A 360 degree view of customers is now critical for optimal customer service in manufacturing. In many companies, employees only have access to either CRM or ERP, so employees have to pass or refer customers around to other departments. This causes low first call resolution rates, and worst of all, frustrates customers that are bounced around from one department to another repeating the same information.  This makes your company appear disjointed and certainly doesn't make your customer feel special.
Customer Service Processes that Require CRM and ERP Aren't Coordinated
Processes and activities that interact with customers and travers ERP and CRM must work in a smooth and streamlined fashion or your customer will feel the division. These processes and activities include sales order processing, change order processing, RMA processing, parts replacement, product revisions and warranty management. If these processes are slow, cumbersome and error prone then the customer suffers and gets caught in the gulf between CRM and ERP.
In short, your customers will gain first-hand experience on how well or how poorly your systems are integrated.
When CRM and ERP are integrated into a single cloud platform like the Salesforce Platform, these information and process problems go away. A cloud-based ERP solution like Rootstock, designed and built on the Salesforce cloud platform, integrates seamlessly with Salesforce CRM so all the front-end sales and service data is on the system as the back office and operational data.
In this kind of system, everyone has a 360-degree view of a single set of customer information across the enterprise. The front and back office are combined to unify the system of record and the system of engagement.  Processes that traverse CRM and ERP are seamless.
With a unified approach to CRM and ERP you'll come across as one highly coordinated company to your customers rather than a disjointed set of departments.  Your sales and service teams will be much more responsive before and after the sale. In short, you'll be able to out-service the competition with CRM and ERP on a single cloud.
Benefits of unifying CRM and ERP for optimal customer service include:
Resolve more customer problems on the first call.
Respond to customer issues faster. Stop bouncing them around your company.
You'll stop making errors in the Quote to Cash process that annoys customers. Deliver the right products with the right invoice every time.
Provide real time Available to Promise (ATP) information to respond quickly to win more deals and set customer expectations accurately.
Execute customer service processes that touch ERP and CRM flawlessly like RMA processing, change orders and warranty management.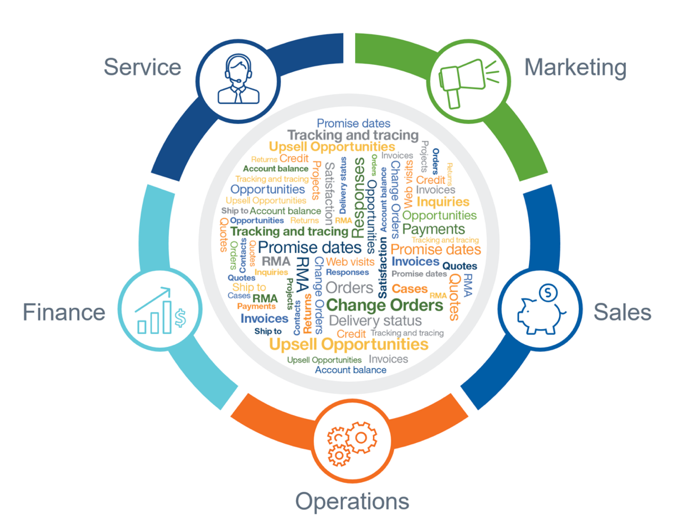 Personalized Products Requires Operational Agility
The key to being able to provide personalized products is having an ERP system that has the flexibility and agility to make personalized products at a profitable scale.  This requires the ERP system to have a flexible architecture that can retain the efficiencies gained from say a typical make to stock manufacturing environment but is able to adjust for the nuances of executing more specialized manufacturing projects for customers.  It begins with the sales order.
The Quote to Sales Order Connection
The trend toward more personalized and customized products is causing manufacturers to introduce more Engineer-to-Order and Configure-to-Order workstreams so manufacturers need the flexibility to support more non-standard orders. There are several flexible CPQ tools available on the market to help with the front end of this process, but the key is the ability to smoothly flow the process from quotes to downstream operations processes by creating the Sales Orders, the unique bills of materials and work orders needed to make these special items.
If there is poor integration between these quoting tools and operations, it results in manual workarounds,  increased cycle times and reduced responsiveness to customer. This system needs the flexibility and integration wherewithal to handle an environment where customized orders are not the exception, but the norm.
For instance, Rootstock Cloud ERP solves this problem with our CPQ Connector, which connects Salesforce's flexible configuration, pricing and quoting (CPQ) tool to Rootstock's downstream manufacturing ERP processes.
It creates a more streamlined process from quote generation through the entire business cycle including production pick, pack, ship and billing. Quotes and estimates in Salesforce CPQ can be turned into Rootstock ERP sales orders with one click. This kicks off work orders and the manufacturing process using the unique bill of materials, labor allocations and routings for that item – as determined by the unique configuration and manufacturing requirements. Quotes can include other standard products and services contracts on the same sales order. Personalized product choices can flow directly into production.
Multi-Mode and Project Mode
Flexibility extends to the production and shop floor as well. Customer-centric manufacturing allows companies to quickly shift between engineer-to-order, configure-to-order, build-to-order and make-to-stock products. Some companies need to operate in different modes simultaneously which puts tremendous stress on older ERP systems. This alone could be a reason to upgrade to a modern Cloud ERP system.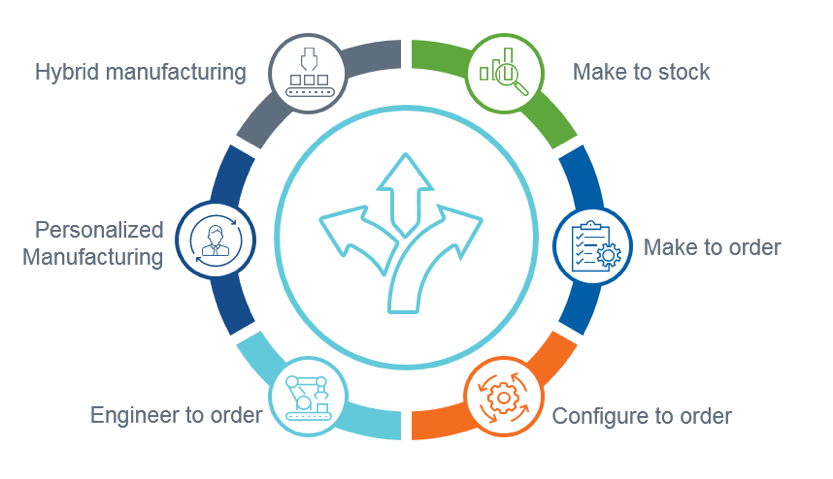 Project Based Manufacturing
Many manufacturers are taking a more project-based manufacturing approach, integrating engineering, sales, operations, procurement, materials, planning and production around specific projects.  This is not how all ERP system were designed in the past.
Rather than say a Make to Stock view of operations, Rootstock lets you view your operation by project. It provides the ability to plan, track and cost by project via a Project Control mechanism, which connects Sales, Inventory Control, Shop Floor Control, MRP, Purchasing and Manufacturing Cost Control into a project view.   You can plan a single project independently without disrupting the material plan for other projects. Capabilities include:
Associate inventory items, sales and work orders, purchase requisitions and purchase orders with a project.
A Project Workbench provides real-time access to all project data, including a snapshot cost comparison of actual to budget, project inventory, purchase orders, requisitions, manufacturing work orders, forecasts, sales orders, and all transactions associated with the project.
Operational Flexibility
Customer-centric manufacturing also requires more flexibility deep into operations including scheduling and capacity planning, engineering and routing, shipping and receiving, and even quality control.
Rootstock's BOM and routing flexibility give manufacturing the ability to design and build simple and complex products, produce new product types, and change the order of operations executed on a part. Machine flexibility allows the use of multiple machines to perform the same operation on a part, as well as the system's ability to adapt to changes in volume, capacity, or capability.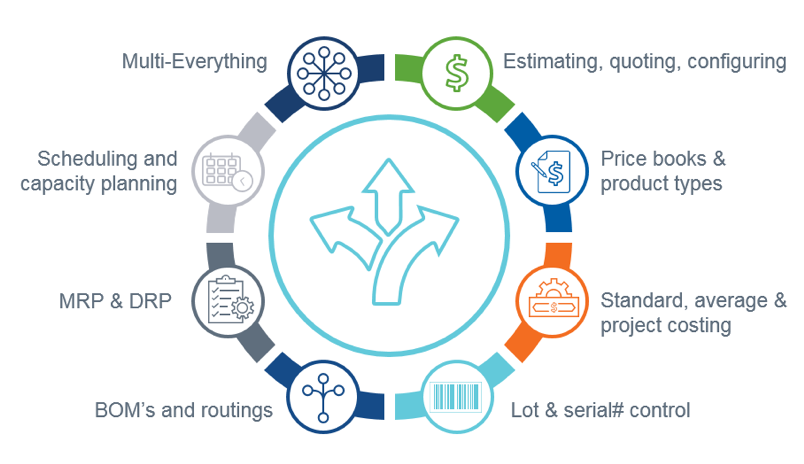 Summary
Customer-centric manufacturing isn't just the latest industry buzzword. It's a real shift in business strategy that puts the customer first, both on the product side and the service side. It offers a way for companies to satisfy increasing customer expectations, differentiate with personalized products and provide top-notch customer service.
To execute a customer centric manufacturing strategy, you'll need to combine ERP and CRM into one unified system, so you can provide employees with a single view of your customers and streamline the customer processes that traverse ERP and CRM. In addition, you'll need an ERP system that provides operational agility throughout and a more project orientation to managing your shop floor.
Based on the way customer expectations and competitive pressures are growing, companies that can efficiently offer personalized service and more personalized products are destined to be more successful.