Part One – Six Quantitative Benefits of Cloud ERP
You probably already know that Cloud ERP lowers capital expenditures by eliminating the need for your own data center, hardware and other infrastructure costs, but there's more to the story than that. Since every company has its own unique set of circumstances and business requirements, you might want to know how Cloud ERP will help your company meet those challenges.
There are a wide variety of quantitative and qualitative ways you can benefit from Cloud ERP, so we have divided this blog into two parts. Part One below describes six quantitative benefits to help you make the case for implementing a cloud-based ERP solution. In Part Two, we'll talk about the qualitative benefits of Cloud ERP, which are harder to measure but still valuable.
While the quantitative benefits of cloud computing should be of particular interest to organizations that completely or at least largely eliminate their on-premises IT infrastructure, they also apply to companies looking to replace manual processes or home-grown solutions with their first ERP system.
1. Increase ROI with Cloud ERP
The most important quantitative benefit of Cloud ERP is ROI. Manufacturing companies looking to implement Cloud ERP are rightfully concerned about the return on their investment. Let's start with some statistics on the ROI of Cloud ERP:
A recent study by research firm Nucleus Research calculated that most companies reported a higher than 150% ROI after switching to a Cloud ERP system. In a more detailed study by Nucleus Research, high-end textile manufacturer Matouk reported an ROI of 223% measured over a period of six months.
Another study by Nucleus Research found that the payback of the cloud ERP solutions ranged from two months to 1.9 years with average annual benefits from $72,790 to $715,603.
According to MyOfficeApps research, one technology company switched to Cloud ERP and saved more than $100,000 in hardware and software purchase and avoided hiring at least three full-time IT employees.
Research at Computer Economics shows that companies using the cloud save more than 15% in terms of their total IT spending, and the money that they do spend goes more toward innovation and less toward on-going support.
In a Panorama Consulting study, when asked to select areas where ERP produced ROI, respondents gave the top three answers as reduced IT costs (40%), reduced inventory levels (38%) and reduced cycle time (35%).
It is clear that Cloud ERP pays for itself, but there are many quantitative ways that it saves you time and money including the following:
2. Improve Inventory Management with Cloud ERP
Inventory management in ERP is one of the biggest concerns of manufacturers, who often ask how much inventory reduction they can expect with a cloud-based ERP system. Industry analysts generally agree that between a 20-30% reduction is achievable with improved management of raw materials, parts, WIP and finished goods. Even if the improvements are only half of that -10-15% – you will still see significant savings.
Depending on the age or the level of sophistication of your current system, inventory accuracy and real-time visibility can be big advantages of Cloud ERP. For example, most Cloud ERP systems can assign and track unique identifiers such as lot or serial numbers, which you can use to quickly check which products are in your warehouse, which ones are in transit, and the current revision level of a unique item at a customer's site.
Increased visibility also helps cut product losses and manage materials by expiration dates. You'll be able to see how fast products are moving through your operation in real-time so you can make the necessary adjustments right away.
3. Improve Forecasting, Scheduling and Planning with Cloud ERP
Improving the accuracy of forecasting, scheduling and planning is another important quantitative benefit modern Cloud ERP that helps you optimize profitability. Managing the ebb and flow of supply and demand can be challenging without a modern planning engine. If you are holding too much inventory, you are tying up capital and risk being stuck with older components and materials. Conversely, if you don't have enough materials on hand or items available within reasonable lead times, you risk losing business from customers that need faster delivery.
Collaborative Sales and Operations Planning
It has been said that good operational plans can be produced from good sales forecasts, but sometimes getting sales and operations teams on the same page can be difficult from a cultural and systems perspective. Many companies struggle with manual and disjointed approaches to S&OP providing a target-rich environment for ROI improvements.
The research and analysis firm IDC explained the importance of a collaborative S&OP process in their report The Benefits of a Collaborative S&OP Process:
"Manufacturers must improve forecast accuracy to better plan across operations and increase overall profits. Sales and operations planning (S&OP) is essentially a cross-functional, consensus planning process that turns business/market demand opportunities into a single, actionable operating plan for manufacturers. It is both critical to the achievement of business objectives and poorly understood. "
The report discusses how companies that take a more collaborative approach to S&OP enjoy the following benefits:
Inventory reductions of 10-20%.
Significant improvements in NPDI, principally in lead time reductions of 15-25%.
Customer service improvements of 2-5 percentage points.
Revenue gains of 2–5% "
IDC also found that manufacturing companies with "successful S&OP processes" were reducing lead times by up to 25% and improving customer service by up to 5%. The performance increases combined with tighter sales-operations collaboration also drove revenue increases of up to 5%. Clearly, there is much to be gained by modernizing the sales and operations planning process.
If your company is using separate ERP and CRM systems today, you might find that a modern Cloud ERP solution can eliminate the barriers between the divided systems that are impairing your S&OP process. For example, In the report "Rootstock Delivers On the Value Proposition of the Salesforce Manufacturing Cloud," ERP research and analysis firm MintJutras describes how manufacturers combine Salesforce's Manufacturing Cloud with Rootstock Cloud ERP's into a 360° Sales and Operations Planning engine to create more precise production and supply chain plans.
According to the report, accurate forecasts are the key to manufacturing speed and agility. But forecasting can only go so far without the ability to compare forecasted quantities with actual sales trends, information that remains in the realm of ERP. When you integrate CRM on the sales side with ERP on the manufacturing side, you create the basis for a collaborative process and can continually improve your forecasting accuracy.
Other Benefits of More Accurate Forecasting and Planning
Prepare demand forecasts by customers, products, geography, as well as seasons. Knowing what's coming up gives you the information you need to make strategic and profitable decisions about procurement, scheduling and labor.
Tools like Material Requirements Planning (MRP) and Distribution Requirements planning (DRP) help you plan procurement, production and distribution, which are critical for meeting customer demands, staying in synch with suppliers, managing labor costs and being prepared for production issues or backorders.
Accurate forecasting and planning help you predict capital requirements and keep an eye on changing costs which can impact profit margins.
Your purchasing department can provide firmer commitments and more predictable lead times from your vendors. This also gives purchasing the leverage to negotiate better terms, which can lead to significant cost reductions.
Reduce direct labor savings costs by optimizing scheduling that balances workload and minimizes overtime.
4. Improve Financial Management with Cloud ERP
If your manufacturing firm is currently using a standalone solution for financials in conjunction with spreadsheets and/or poorly integrated operational systems, you'll be shocked by how much time you're wasting reconciling systems, feeding spreadsheets and emailing documents as a substitute for a more unified data and workflow system. When your processes and data are separated and disjointed, it creates the need for more human and manual intervention.
Most of the financial management benefits of Cloud ERP are related to having more naturally integrated data flowing in from multiple operational sources to get a complete financial picture. For instance, ERP and CRM systems were usually separated in the past, using different software architectures, workflows and reporting systems. The system of engagement and system of record were separated and wreaked havoc on the opportunity to cash process.
Today you can have a single cloud system where ERP and CRM are combined. Workflows cross departments naturally and efficiently. The right products get shipped. Invoices are generated quickly and accurately.  Cash gets collected more quickly. The opportunity to cash process is optimized.
More Efficient Financial Reporting
Integrated financials also make it easier for you to plan capital requirements and manage cash actively. Month-end, quarter-end, and year-end processes are smoother. Audits are less time-consuming and less costly. In short, modern Cloud ERP can help reduce the cost of financial management and make you a better financial manager.
---
How One Company Left Spreadsheets Behind
One company that escaped the inefficiency of spreadsheet-based workflows and reduced costs by implementing Cloud ERP is Vitamin Angels. A nonprofit firm that provides nutritional supplements to underserved children and pregnant women, Vitamin Angels worked mostly with spreadsheets and emails. As the company grew, they realized that having just two employees manage inventory and logistics with spreadsheets and emails was insufficient and inefficient for a global company.
Since implementing Rootstock Cloud ERP, Vitamin Angels has a single system of record that provides a 360-degree view into product availability, global sales order demand and financial metrics through real-time dashboard reports accessible to their teams all over the world. As people get consistent, reliable information more easily, they can make adjustments faster and reduce the amount of time it takes to complete tasks that used to be performed manually. Additionally, instead of answering queries and working in spreadsheets, the logistics team can work on more value-added projects.
The new system also improved financial reporting. In the past, closing the books for Vitamin Angels meant waiting for inventory reconciliation that depended on one or two people working in Excel, trying to track and account for inventory with the global teams across multiple countries via emails with local managers. Since implementing Rootstock Cloud ERP, Vitamin Angels shaved two months off their year-end close process and inventory reconciliation.
"Now we're utilizing our team all over the world to help input sales orders, and our team in the US entering grants," said Bonnie Forssell, company CFO. It all flows much quicker because we have the whole process through Salesforce and Rootstock."
More Accurate Costing in Cloud ERP
The need to accurately capture and manage costs at granular levels is crucial to maximizing profitability. Older systems struggle to provide the flexible costing methods that are now required as manufacturers offer more types of products and focus more on personalized manufacturing. For example, standard costing might work great for a make-to-stock environment but may not be sufficiently close enough to reflect actual costs in an engineer-to-order or custom manufacturing environment.
The good news is that modern cloud-based ERP systems have more flexible costing models than legacy ERP and can support these different costing methods.
One cost area that has become more important with globalization is the area of freight and landed costs. If your current system struggles in this area, a new Cloud ERP system could be a significant source of payback. These costs typically include freight, import duties, custom duties, taxes and tariffs, and they can be a material component of the final cost. If you are not managing these well, your prices may not be covering the true cost of the items you are selling. Multicurrency management can also be a critical in this environment if your current system lacks this capability. Today's cloud-based systems were built in the era of globalization and are better suited for managing global supply chains and the cost elements associated with them.
Better Cash Accounts Receivable Management
Let's face it – the faster you can collect your accounts receivable, the better. When you have the ability to produce error-free and timely invoices, turns on receivables can be improved around 5%, resulting in a significant improvement in cash flow.
Cloud ERP with integrated financials removes the tedious process of tallying the information between separate systems. This improves data consistency and eliminates duplicate entry errors. It also reduces the risk of generating incorrect invoices, re-work, and other customer satisfaction issues that arise from inappropriate data input.
---
5. Lower IT Costs with a Single Solution that Combines ERP and CRM
As we mentioned earlier, you can achieve a large quantitative benefit by combining ERP and CRM on a single cloud platform to improve processes, but you can also reduce direct IT costs too. Having a single system with every functional area integrated by a single source of data will save you time and money. Here are some specific ways that a single cloud solution such as Rootstock Cloud ERP combined with Salesforce CRM can lower your costs:
Lower system administration costs: Because ERP and CRM share the same user permission sets, security systems and database, your Salesforce admin can manage both ERP and CRM. This could amount to $100,000 per year savings or more.
Lower integration costs: Rootstock Cloud ERP on the Salesforce Platform helps you avoid the high costs of ERP to CRM integration and the annual maintenance associated with it from upgrading and changing each system over time.
Lower training costs: Rootstock and Salesforce share the same user interface, reporting, dashboarding, AI, workflow, social media, community and app development tools. This eliminates the cost of training employees to use separate systems.
Without the excessive IT, system administration, training and integration cost burden of multiple solutions or an additional platform, you can invest your IT resources in projects that generate real new value for your business. To learn more about the value of combining ERP and CRM one platform, read this Nucleus Research study "Connecting ERP and CRM with Rootstock."
6. Cost Savings from Process Improvement and Better Collaboration
Another significant quantitative benefit of Cloud ERP is the ability to automate workflows that were previously manual, disconnected and error prone. You probably already know that these costs add up.
According to Panorama Consulting, 95% of companies that implemented ERP improved some or all of their business processes, and 93% experienced an increase in productivity outside of the office because of cloud technology.
In addition to increased productivity from automated workflows, modern Cloud ERP systems provide access to your data and workflows on mobile devices. This gives your global and remote workers the ability to perform those tasks from anywhere and collaborate in a number of ways.
Here are some more numbers that show how collaboration can save you money, this time from a report from Forrester:
Increasing collaboration can drive 10% productivity improvements.
Increasing collaboration can save employees 5-10% of their time, or around two to four hours in a 40-hour week.
For a 100-employee company with a 1:1 ratio of knowledge workers and frontline workers with hourly salaries of $60 and $40 respectively, using collaboration tools can help reach up to $247, 500 in productivity benefits.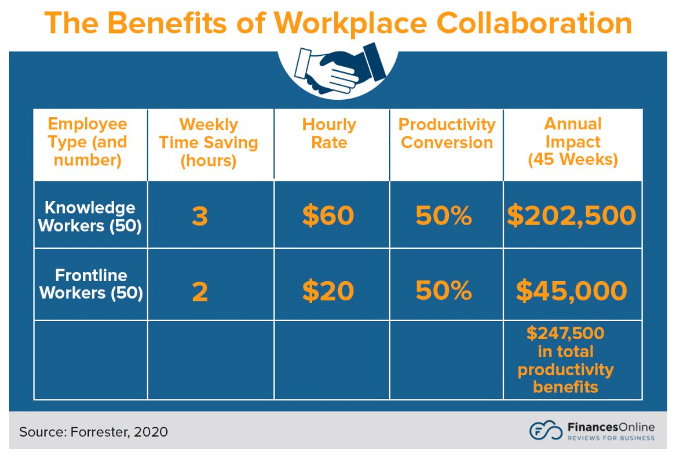 Summary
Each company is unique. Your company is unique. A company with years of experience in investing in incremental manufacturing operations improvements may see savings below industry averages. On the other hand, if your company has been growing and using minimal production support systems, you may see higher than average savings. Some companies may find additional areas of the business that will yield significant value which will be covered in Part 2 of this blog.
It's clear that Cloud ERP solutions, such as Rootstock Cloud ERP running on the Salesforce Cloud Platform, can save your company a lot of money. But Cloud ERP benefits your company in other ways as well.
In the second part of this series, we'll take a look at the qualitative benefits provided by Cloud ERP.